If you are a non-technical skilled individual, a hobbyist, or an electronic engineer interested in cultivating a creative electronic and robotic environment with fun projects, or a parent encouraging your children to experience such an atmosphere, you should consider getting an Arduino starter kit.
Arduino starter kit is a mini-lab kit, a very convenient, easily learned, and assembled, a safe package designed with physical hardware and software that allows you to expand your programming and robotic knowledge and interests.
Not only for learning, but you will be able to build it right away. As plenty of models and brands are available on the market, we are here to present you with the top ten Best Arduino Starter Kits brands of the year 2023. Without any further delays, let's check them out together.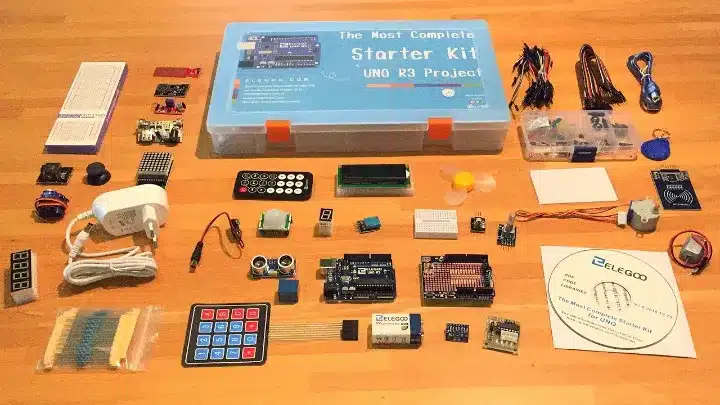 List of the Best Arduino Starter Kits Buying Guide
UNO R3 Project Smart Robot Car Kit V 3.0 by ELEGOO
ELEGOO UNO R3 Project Smart Robot Car Kit V4 with UNO R3, Line Tracking Module, Ultrasonic Sensor, IR Remote Control etc. Intelligent and Educational Toy Robotic Kit for Arduino Learner
ELEGOO Smart Robot Car: An educational STEM kit beginners (kids) to get hands-on experience about programming, electronics assembling and robotics knowledge. It is an integration solution for robotics learning and made for education.
Complete Package: Contains 24 kinds of module parts including obstacle avoidance, line tracing module, infrared remote control and also you can control it via phone and tablets of Android and iOS system, etc.
Easy to Assemble: All the module interface has been modified with XH2. 54 ports as to make it much easier and convenient to assemble the car and reduce the chances for errors.
Refined Tutorial: HD rendering instructions on how to assemble the robot car from scratch and all the necessary programs and codes are included.
Upgraded Package Design: More minimalism design and make it a perfect gift for your kids and friends. Note:(Applicable Age : 12+)To use Elegoo starter kits requires basic electronic knowledge. If the user has no experience, it would be better to have someone lead and teach them while studying.
Let's look at the number 10th on the list, Elegoo. The Elegoo Arduino starter kit package is handy for children and adults to get them exposed to integrated knowledge regarding robots, electronics, or programming with real-time experiments.
The package is designed with multiple modes, such as auto-go mode, obstacle avoidance mode, line tracking mode, and infrared control mode.
Your kids will learn to control this robotic car and run in different modes. The package contains 24 types of module parts that are very easy to assemble.
The tutorial CD is also included to guide your children on how to assemble. This package is suitable for youngsters aged 12 and older, non-skilled or professional users.
Super Starter Kit Compatible with Arduino Projects by Miuzei
Miuzei Starter Kit Compatible with Arduino Projects with Microcontroller, LCD1602 Module, Breadboard, Power Supply, Servo, Sensors, Jumper Wires, LEDs, Detailed Tutorial MA13
More than 28 lesson links to product details (instructions in English) or on the Internet. Free tutorial or easy to visit it on the cloud drive
DIY projects for learning how to handle and programme with Arduino for beginners and hobbyists
Components are already soldered, all modules can be connected via pin header
The set contains everything you need to learn how to handle. All projects could finish by USB, it's a complete kit for you
High-quality box with electrostatic bags – what is needed is well organised
Moving down to number 9th starter kit of the year, it is Miuzei. It is designed to give you 28 lessons regarding electrical engineering with codes based on C/C++ programming language.
Free tutorial lesson datasheet is available on CD provided and cloud drive. The components include an LCD 1602, ultrasonic distant sensor, touch sensor with a pin header, and others.
In total, there are 37 components. Moreover, you can power your project with a USB cable with a 9V 1A power supply. Plus, the storage box is divided into sections helping you tidy up after finishing your projects.
Basic Starter kit for Arduino R3, Breadboard, LED, Resistor by LAFVIN
LAFVIN is one of the top ten best Arduino starter kits (number 8th), which is highly recommended for electronically Do-it-yourself fun projects. It is highly compatible with Arduino UNO R3.
This kit package contains 40 component parts, such as an 830-tie point breadboard, power supply, resistors, LED, and others for your projects to start directly.
Free PDF lessons, libraries, and datasheets are available on the CD provided. Therefore, it is very convenient for starters to commence their DIY imaginative projects.
RFID Starter Kit V2.0 with UNO R3 by Freenode
Freenove RFID Starter Kit V2.0 with Board V4 (Compatible with Arduino IDE), 267-Page Detailed Tutorial, 198 Items, 49 Projects
267-page detailed tutorial (including basic electronics and programming knowledge) -> The download link can be found on the product box. (No paper tutorial.)
198 common items -> All parts needed to complete the projects in the tutorial. No soldering required.
49 interesting projects -> Each project has circuit diagrams and verified code with detailed explanations.
Extra advanced projects -> Make virtual instruments (voltmeter, oscilloscope) and game consoles.
Get support -> Our technical support team is always ready to answer your questions.
Number 7th top kit of the year goes to Freenove, the innovative Arduino Starter kit that makes your programming and electronic projects more interesting and advanced.
This kit offers free detailed tutorial lessons related to 49 building projects. Additionally, the whole package comes equipped with 198 common pieces of an item that require no soldering that the 49 projects need to be built.
There are also more advanced projects such as making virtual instruments by Voltmeter and oscilloscope and game consoles. For any concerns and problems, there is a technical service team available to support you. So contact them.
Arduino UNO R3 Complete Starter Kit by REXQualis
REXQualis Complete Starter Kit Based on Arduino UNO R3 w/ Detailed Free Tutorial Compatible with Arduino IDE (67 Items)
More than 200 components, the most complete kit you can find. Great value starter kit with 67 kinds of electronic components.
Has all the components & modules you need and Free PDF tutorial (more than 31 lessons). All the code and libraries to use the modules is included on the CD.
All the modules come soldered so they are easy to wire up.
Include High Quality Base Board and Sensors, 100% compatible with Arduino IDE.
All of the Components and Integrated Circuits are individually packaged and labeled,including some nice small boxs to keep the widget such as LED, IC, buttons, diodes, etc
REXQualis is rated to be the complete Arduino starter kit with high quality of the year, making it the number 6th amongst the top ten kits of the year 2020.
The whole package comes equipped with 67 kinds of components for modules, which is more than 200 common item pieces.
The upgraded package now includes Max7219 Led dot Matrix, MPU-6050, HC-SR501 PIR sensor, water Level detection sensor, a rotary encoder, and so on.
Free tutorial lessons are provided to support your exploration and assembly. They are available on the company website.
Super Starter Kit for Arduino UNO R3 Project with Tutorial by Smraza
Now let's have a look at our number 5th starter kit of the year by Smraza. This starter kit is highly recommended for beginners as the tutorial lessons regarding electronic projects are provided with detailed explanations, sample code, and images, starting with building circuits, LCD display lessons, and power supply modules. The kit is perfectly compatible with Arduino UNO R3, Mega d2560 R3, and NANO.
The contents include a breadboard, sensors, power supply, resistors, jumper wire, LED and LCD, and so on. You can easily upgrade your lessons and projects by just adding some more sensors. You can now write your own programs even as a beginner.
Arduino Starter Kit, Complete Electronic Kit for Arduino with Detailed Tutorials by UNIROI
UNIROI Ultimate Starter Kit Compatible with Arduino IDE 328P Control Board, 260 Pages Detailed Tutorial, 217 Items, 51 Projects, Breadboard with Arduino IDE Starter Kit
PDF tutorials with more than 20 lessons are included in CD. UNIROI for Arduino Starter Kit is specially designed for Arduino beginners.
RAB Holder: Fixing Arduino 328P Control Board, mega2560, raspberry pi and breadboard for your project, make it easier to build and carry your projects.
Upgraded Aruino 328P control board is based on ATMega328 chip for controlling, 100% compatible with official version Arduino. And features faster transfer rates and more memory with ATMega16U2 chip instead of ATMega8U2.
For Arduino power supply module, LCD1602 module with pin header (No Need to Solder), Arduino motor and Arduino wires are included.
Gift: Resistor color card (Please add resistors when using LED to avoid over current), Raspberry Pi GPIO reference card with wiring Pi and BCM codes for all Raspberry pi motherboard. Convenient to check the Pin corresponding for your experiment.
Highly recommended to beginners who want to experience electronic and robotic projects, Uniroi may be one of your choices. Uniroi kit is designed to be 100% compatible with Arduino.
The package comes equipped with 20 free tutorial lessons guiding beginners on projects, codes, and so on in detailed explanation.
It features a RAB holder that includes Arduino UNOR3, Mega 2560, and a breadboard. Additionally, it is equipped with an ATmega16u2 chip for larger memory. Arduino motor and wire are included. No soldering is required as modules come with a pin header.
Beginners Starter Kit Sensor kit Electronics kit with Tutorial for Arduino by Coding Array
ELEGOO UNO Project Super Starter Kit with Tutorial and UNO R3 Compatible with Arduino IDE
Free PDF tutorial(more than 22 lessons) and clear listing in a nice package
The most economical kit based on Arduino platform to starting learning electronics for those beginners who are interested.
Lcd1602 module with pin header (not need to be soldered by yourself)
This is the upgraded starter kits with power supply module, 9V battery with dc
High quality kit with UNO board, compatible with Arduino UNO R3, MEGA 2560 R3, NANO.
High-quality kit package, brand Coding array makes its way to number 3rd of the top ten starter kits for Arduino for the year 2020. It is designed to be completely compatible with Arduino UNO R3.
This all-in-one and built-in kit offer up to 18 modules. Additionally, you can start your own imaginatively interesting projects after learning lessons provided in PDF files available on the company website.
Other advantages of Coding Array include module configuration on the I/O shield board, a Bi-directional shifter, and a strong plastic case for better-storing arrangement as well.
Mega 2560 Project The Most Complete Ultimate Starter Kit by ELEGOO
ELEGOO Mega R3 Project The Most Complete Ultimate Starter Kit with Tutorial Compatible with Arduino IDE
The MEGA complete starter kit with more than 200pcs components, premium quality and 100% Compatible with Arduino IDE
Free pdf tutorial in the cd (33 lessons)
Lcd1602 module and gy-521 sensor module with pin header ( no need to solder by yourself)
Nice package with clear listing and surprise including a nice small box to keep the widget such as LED, IC, buttons, diodes, etc.
We have always cared about the customer experience and improve the product function details
Elegoo is the second-best high-quality and most compatible kit amongst the top ten. Let's look at what it offers. This kit package offers more than 200 pieces of items needed for electronic project assembly.
Plus, it is very compatible with Arduino IDE. The CD room is provided with more than 35 free electronic engineering lessons, making your assembly more fun and imaginative.
Without requiring to be soldered, LCD 1602 module and gy-521 sensor are equipped with a pin header. The kit can function for different projects, such as a display module, transistor, and shift register.
Arduino Starter Kit
Sale
Official Arduino Starter Kit [K000007] (English Projects Book)
It's a quick and easy way to get started with the learning of STEAM subjects at home, and it can be used to think critically, learn collaboratively, and solve problems.
This kit walks you through the basics of Arduino and electronics in a hands-on way. No prior experience is required, as the kit introduces both coding and electronics through fun, engaging, and hands-on projects.
The kit comes with a 170-page project guide book and includes over 100 components.
You'll be able to build 15 different projects using components that let you control the physical world with different kinds of sensors and actuators.
Plenty of free activities and materials are available online, along with lots of inspirational tutorials and videos that mean you can continue using the kit in creative ways even after you've completed the projects.
Here comes our number 1st Arduino flexible platform starter kit of the year by Arduino brand. Now doing your electronic prototyping projects is becoming more technical, convenient, economical, and fun.
This package functions for 15 engineering projects that involve working with an Arduino board, DC motor, servo motor, tilt sensor, and other components. Featuring a digital hourglass, it lights up to help stop you from working too hard.
The Knock lock is equipped with a secret code to open the door. A guiding book is also provided to give detailed explanations about all 15 projects, which will help accelerate you from the beginning level to the professional level.
Buying Guide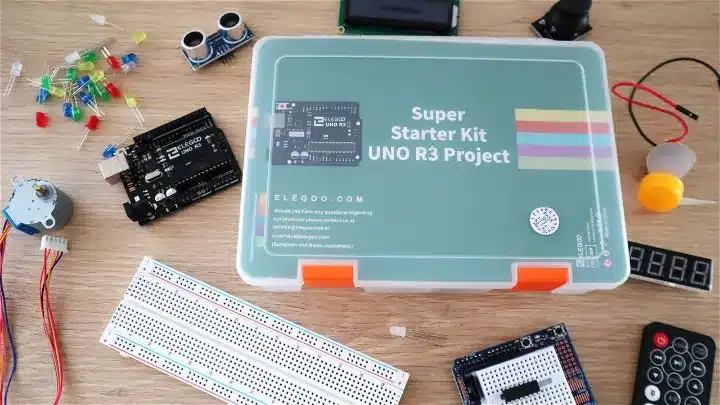 Going through all the top ten Arduino starter kits of the year, we believe it is hard for you to decide which one is worth your purchase. However, don't worry because here, we will be giving out some important buying tips that will help with your selection.
Functionality and features
Functions are what make your projects more fun and help expand your limit-less, exploratory and innovative ideas. You may select a starter kit that offers you a wide range of modules.
Therefore, there is no limit to your imagination. Furthermore, you shall buy a kit that provides you with more component parts for your built-in assemblies so that you do not need to purchase extra items for your projects.
Level of user
It is important to know what level you are in, whether you are an experienced user or a new beginner. By knowing this, you may find an Arduino starter kit that suits your level.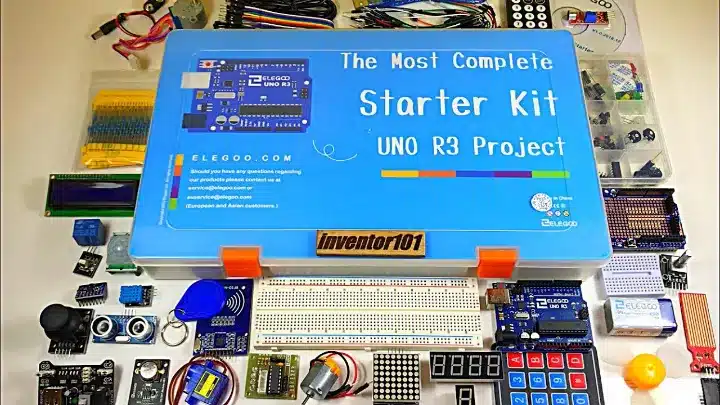 There are starter kits that suit best electronically introductory engineering users. There are designed for advanced professional or experienced users.
Moreover, there are some kits that work for both users by just adding some more components.
Guidance requirement
Sometimes, guidance is not needed unless you are totally new to the thing. You may choose a kit that comes with instruction and guidance books. If you are a basic user, you may need help guiding you on where to start and what component is for what functionalities.
Therefore, you should make sure tutorial lessons are provided or available in the CD room or online, where you can learn before starting your assembly and projects.
Conclusion
After going through brief details of our top ten Arduino starter kits, we believe you are now aware of the best products, offerings, and qualities for your purchasing consideration. We also did not forget to inform you about important buying guidance to make the best of your choice.
All the products above have their fame on the market and are rated to be in the top ten of the year 2020. You will never be disappointed by selecting one of the above for your robotic projects. Additionally, they all are just one click away, ready to be yours. Hence, get yours soon.