The Japanese company Audio-Technica has long made a name for itself in the world of audio equipment. In this article, we would like to take a look at the ten best headphone models from the manufacturer. We would like to present a product that is as suitable as possible for every budget. Here comes our list!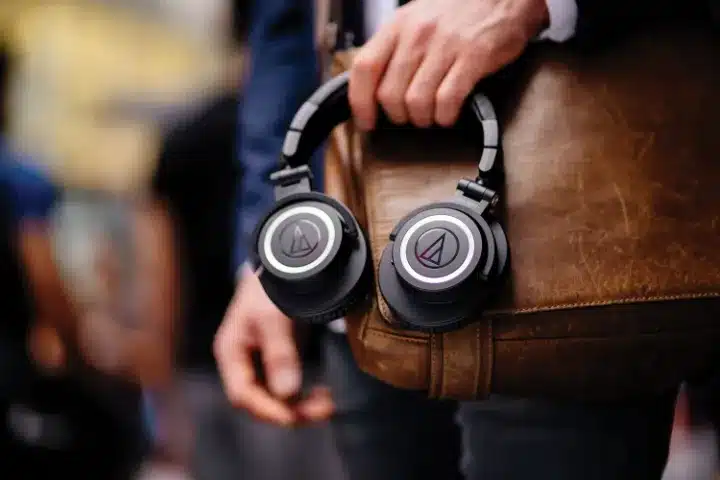 Best Audio Technica Headphones for Gaming, Mixing and music
Audio-Technica ATH-R70X Reviews
Sale
Audio-Technica ATH-R70x Professional Open-Back Reference Headphones, Black
High-efficiency magnets and pure alloy magnetic circuit design reduce distortion and ensure accurate and extended high-frequency response
Carbon composite resin improves structural rigidity to provide detailed transient response
Acoustically transparent, aluminum honeycomb-mesh housings provide a natural and spacious open-back sound
Breathable fabric earpads and improved wing support provide long-wearing comfort
Feather-light weight (approx. 210 g w/o cable) and robust construction make headphones perfectly suited for professional use
The model with the designation "ATH-R70X" was able to grab first place in our list of the best. If you open the package in which the headphones from the renowned manufacturer are located, the slim design of the product immediately catches your eye. In fact, the ATH-R70X comes with a comparatively narrow headband, while the integrated pads ensure that it is comfortable to wear. This is particularly beneficial for long-term users; in combination with the feather-light weight of the headphones, there is never any uncomfortable pressure on your head. Despite its reduced design, our Platz 1 proves to be extremely robust headphones. However, due to the open design, slight deductions in terms of external damping must be noted.
The sound that the ATH-R70X reproduces impresses with its particularly well-balanced mix. Due to the linear sound alignment, which does not bring any area of ​​the sound field to the fore, these headphones are particularly suitable for studio use. Accordingly, unsuccessful recordings are pleasantly exposed honestly since the weaker passages are not whitewashed by artificially amplified bass. Of course, the ATH-R70X is also suitable for regular use in everyday life and is not aimed exclusively at those customers who want to use the headphones for the production of their own works. So if you are willing to dig deep into your pocket to buy the Audio-Technica ATH-R70X, you will get a reliable product with the purchase of the headphones,
Audio-Technica ATH-MSR7b Reviews
The runner-up in our selection can already convince purely visually. The classic, simple design with its subtle blue applications is immediately appealing. With regard to its own brand presence, simplicity was also key; Audio-Technica just perpetuated the in-house logo in the form of a matt finish on the ear cups. The headband made of metal was equipped with an extendable snap-in system, which allows you to adjust the span of the headphones to your individual head shape. So that your ears are not affected during use, your eavesdroppers are embedded in a springy cushion made of synthetic leather. The Y-shaped cable, unfortunately, only has a length of around 1.2 meters, which is why we criticize slight criticism regarding the freedom of movement.
In addition to the great integrated padding on the ear cups, the low weight of the ATH-MSR7b also means that you practically completely forget the headphones during long sessions. This also applies to those who wear glasses among you.
With the help of the 45-millimetre driver, the ATH-MSR7b achieves a frequency response that ranges between 5 Hertz and 50 Kilohertz. As a result, the headphones give you a crystal clear sound image, which gives you a very detailed listening experience. Overall, we can look forward to a well-balanced sound in which neither highs, mids, nor lows seem too dominant. Instead, every sound nuance plays out its individual strengths in a stylish manner. The highs are sharp, the mids serve us with pure natural vocals, and the basses boom pleasantly without overdriving.
Audio-Technica ATH-M50x Reviews
Audio-Technica ATH-M50X Professional Studio Monitor Headphones, Black, Professional Grade, Critically Acclaimed, with Detachable Cable
Critically acclaimed sonic performance praised by top audio engineers and pro audio reviewers
Proprietary 45 millimeter large aperture drivers with rare earth magnets and copper clad aluminum wire voice coils
Exceptional clarity throughout an extended frequency range with deep accurate bass response
Circumaural design contours around the ears for excellent sound isolation in loud environments
90 degree swiveling earcups for easy one ear monitoring and professional grade earpad and headband material delivers more durability and comfort
The winner in the "Price-Performance Ratio" section listens to the model designation ATH-M50X and is essentially the direct successor to the established ATH-M50. This means that this model can be rotated 180 degrees into practically any position as required. This physical flexibility turns out to be a particularly clever trick for regular use in the studio, in the course of which an auricle has to be quickly folded behind the eavesdropper. The circumaural shells have satisfactory external damping.
When it comes to sound, the product, supplied with three cables, is particularly appealing thanks to its distinctive bass. The booming passages don't seem distorted but are powerful through and through. The highs are clearly worked out, while the mids can score with a clever balance. For some of you, however, the highs just mentioned could sometimes seem a bit too sharp. Thanks to its impressive damping, the ATH-M50x is not only suitable for recreational use but is also a reliable companion in the studio.
Audio-Technica ATH-DSR9BT Reviews
In view of the not to be despised purchase price with which the Audio-Technica ATH-DSR9BT comes along, some of you might shy away at first. However, if you can afford it and are also willing to invest a large amount of money in the purchase of excellent headphones, the Audio-Technica ATH-DSR9BT is a top-class model. The orientation of these headphones should appeal primarily to those users who prefer to connect their acoustic companion to the corresponding end device via Bluetooth.
So that the fun music sessions don't run out of juice too early, the ATH-DSR9BT has a generous battery life of around 15 hours in active operation. As an alternative to using Bluetooth, the headphones can also be connected to a laptop, PC and Co. via USB cable.
With regard to its frequency response, the ATH-DSR9BT moves in a thoroughly detailed framework, which basically amounts to a range from 5 Hertz to 45 kilohertz. The externally appealing design of the ATH-DSR9BT not only pursues aesthetic purposes but also promises a long service life due to its stable workmanship. The Bluetooth connection with the respective source of your tracks works reliably and within a few seconds.
Once the playlist has started, you can manage the songs using the buttons on the ear cups and answer calls. Although the ATH-DSR9BT weighs in at around 315 grams, the headphone is very comfortable to wear, and the fully enclosing auricles naturally provide superior attenuation of background noise. However, we would also like to mention that mussels tend to generate noticeable heat when used for a long time. The sound spectrum proves to be both clear and balanced. The integrated "Pure Digital" drivers are particularly beneficial for the mids and highs.
Audio-Technica ATH-LS50iS Reviews
Audio-Technica ATH-LS50iSBK In-Ear Monitor Headphones with In-Line Mic & Control, Black
Connectivity Technology: Wired
Exclusive 8.8 mm "live tuned" dual symphonic drivers, comprised of two drivers serially situated within each Housing, generate a balanced sound with reduced distortion and strong, articulated bass
Acoustic sound pipe, constructed of stainless steel and high-durability resin, provides improved high-frequency reproduction. Frequency Response 5 – 25,000Hz
Flexible memory cable Loops over ears for a custom fit and long-wearing comfort.Maximum Input Power:200 mW,Impedance : 11.5 ohms
Detachable 1.2 m (3.9') cable, with newly developed A2DC (Audio Designed Detachable Coaxial) connectors at the headphones, offers exceptional durability and optimized audio performance
If we were only concerned with over-ear models in the previous cases, we are now turning to an in-ear product in fifth place on our list. Compared to the models in our selection that have already been presented, the LS50iS immediately impresses with its pleasantly low price. But do these cost-effective advantages also mean compromises in the technical performance of the product? This primarily depends on the purpose for which you want to use the corresponding headphones. Of course, an in-ear model is not necessarily suitable for professional studio use. For everyday music enjoyment, however, the ATH-LS50iS is an extremely satisfactory alternative that is particularly easy on your wallet.
The in-ear headphones, which are available in black, red, yellow or navy, reproduce a frequency response between 5 Hertz and 25 kilohertz. The cable included for coupling has a length of just 1.2 meters. In order to find the right counterpart for the individual size of your ears, there are four interchangeable adapters from XS to L included. The wearing comfort of the 6.5-gram in-ears does not have any noteworthy points of criticism.
On the other hand, the intensity of the sound is surprisingly good. While many products from Audio-Technica are primarily characterized by their acoustic neutrality, the LS50iS have a very pronounced bass response. Compared to the booming bass, however, the highs seem a bit weak. However, this should not impair the overall enjoyment; overall, the sound is very intense and unfolds, especially in the context of lashing tracks. The microphone integrated for making calls also fulfils its purpose at all times and transports your voice reliably and intelligibly.
Audio-Technica ATH PRO5MK2 Reviews
It continues with the sixth-placed representative on our list. The Audio-Technica PRO5MK2 is described in the product description as a model that is primarily aimed at DJs, but the over-ear headphones do not necessarily meet these self-imposed requirements. The inexpensive headphones were equipped with a generous spiral cable, which in practice, can be extended to a length of up to three meters. In addition, there is a jack adapter in the purchase package, and the manufacturer has not given any additional extras. The material processing of the ATH PRO5MK2 looks simple but robust. In this regard, the manufacturer primarily relied on plastic for the housing and synthetic leather for the exchangeable ear pads.
In addition, the headband comes with ample padding, which is noticeable in practical use in the form of a comfortable fit. The passive attenuation of ambient noise from the environment is, at best mediocre, which is why we do not see the ATH PRO5MK2 primarily as a DJ product. Even the comparatively subtle bass will not be able to hold its own against the background noise of a well-attended live performance. What the mentioned bass lacks in intensity, they make up for with their structured balance. Unfortunately, the mids cannot match the quality of comparable products, but the bottom line is that they still seem solid. On the other hand, the heights are strong and turn out to be dynamic and differentiated.
Audio-Technica ATH-M70x Reviews
Audio-Technica ATH-M70X Closed-Back Dynamic Professional Studio Monitor Headphones, Black
Tuned for extremely accurate reproduction and carefully crafted using key metal components for lasting durability
Proprietary 45 millimeter large aperture drivers are tuned to accurately reproduce extreme low and high frequencies (5 to 40,000 Hertz) while maintaining perfect balance
Ideal for studio mixing and tracking, FOH, DJing, mastering, post production, audio forensics and personal listening
Circumaural design contours around the ears for excellent sound isolation in loud environments
Equipped with 90 degree swiveling earcups for easy, one ear monitoring
We have just chalked up the ATH PRO5MK2 as not being really suitable for a DJ; we would now like to present you with a suitable alternative that fully does justice to this purpose. At its core, the ATH-M70x is a closed headphone which, in addition to its sonic performance, can also score points with its shielding properties against background noise. From a visual point of view, the ATH-M70x is a simple product, which is given a high-quality appearance thanks to the classic colouring in combination with the chrome components on the auricles. In terms of price, the ATH-M70x is usually in the upper mid-range.
Head and ear cushions do their job without any problems and promise you a pleasant level of comfort that does not have to slip. In addition to the headphones and the associated cables, the manufacturer also includes a practical hard case for transport in the scope of delivery. The 45-millimetre drivers of the ATH-M70x generate a remarkable frequency response that covers a range between five and 40,000 Hertz with ease. Conversely, this results in a crystal clear sound image that can inspire with its exuberant wealth of detail. The depths remain discreetly in the background and provide the sound with a pleasant warmth. The heights are clearly worked out, but without over-turning or appearing sharp.
Audio-Technica ATH-AD900x Reviews
Sale
audio-technica ATH-AD900X Open-Back Audiophile Headphones,Black
Open-air Headphones Deliver Clear, Natural Vocal and Instrumental Reproduction.Connectivity Technology: Wired
Large-aperture 53mm Drivers and CCAW Voice Coils For Superior Sound Reproduction
No Sense Of Pressure On The Ears, Resulting In A Completely Natural Sensation
3d Wing Support Housing Offers A Vibration-proof Mechanism That Provides Comfortable Support For A Better Listening Experience
Extremely Comfortable Ear-fitting Pads
Instead of a conventional headband, the ATH-AD900x uses a double construction, which consists of two movable plastic brackets and is, in turn, supplemented by two flexible support wings. If you are now concerned that this construction could be predestined for the annoying slipping of the headphones, we can give you the all-clear. The ATH-AD900x sits securely and withstands everyday movements effortlessly. The non-replaceable cable was integrated into the model and gave you the necessary freedom of movement.
Many open headphones have the disadvantage that they lack the necessary power in terms of bass intensity. Although the ATH-AD900x is also made in an open design, the bass appears pleasantly powerful. The mids also know how to impress with their balanced presence. The highs can also be described as greatly nuanced and are more in line with the softer sound spectrum. This interplay of the various sound aspects results in a wonderfully spatial sound representation, which gives you an immersive musical experience.
Audio-Technica ATH-DSR7BT Reviews
Audio-Technica ATH-DSR7BT Bluetooth Wireless Over-Ear Headphones with Pure Digital Drive
Exclusive Pure Digital Drive system keeps audio signal completely digital from source to driver for exceptionally pure sound
Acoustic resistor controls airflow inside the diaphragm housing to yield a natural sound
Mic and volume/control switch are built into the earcup for convenient control of smartphones and other Bluetooth wireless devices
Exclusive 45 mm True Motion Drivers, featuring bobbin-wound voice coil, top-mounted printed circuit board and specially designed diaphragm, provide rich, detailed audio reproduction
Internal battery provides approximately 15 hours of continuous use (1000 hours on standby) on a full charge
Tangled cables were yesterday! Audio-Technica relies fully on Bluetooth and NFC and comes with all the advantages that headphones, according to current standards, should bring. Since the manufacturer has fully focused on wireless use in the case of the ATH-DSR7BT, this model consequently has no more analogue inputs. Only the USB port serves as a possible connection cord to the end device and also functions as a docking station for battery charging.
If you use the Audio-Technica ATH-DSR7BT primarily in combination with your smartphone, you can enjoy the firmly integrated hands-free system, which enables uncomplicated calls in between. We were particularly impressed by the lush frequency response, which is covered by these headphones and, in terms of numbers, ranges from 5 Hertz to 40 kilohertz. Above all, the end of this wide frequency range shows its incomparable acoustic trump cards with high-resolution tracks.
The buttons with which you pause and play songs, adjust the volume, activate the voice assistant or manage calls have been conveniently integrated directly on the sides of the ear cups. Coupling via Bluetooth usually works without complications, but some users reported that in rare cases, the connection via NFC could lead to failures. Once the headphones have recognized the corresponding device, the connection is established in no time at all. However, we have to criticize the very short range, which causes the coupling to break after about five meters.
In order not to impair your listening pleasure, it is therefore advisable to always keep the device that acts as the audio source within reach. Once the battery of the ATH-DSR7BT is fully charged, there is practically nothing in the way of music sessions of up to 15 hours. As we are used to forming some of the manufacturer's other products, the sound of the ATH-DSR7BT also impresses with its balanced linearity, which does not unnecessarily emphasize any aspect of the sound. The Audio-Technica ATH-DSR7BT also masters every imaginable musical genre.
Audio-Technica ATH-M20x Reviews
Sale
Audio-Technica ATH-M20X Professional Studio Monitor Headphones, Black
Advanced build quality and engineering Designed for studio tracking and mixing
40 millimeter drivers with rare earth magnets and copper clad aluminum wire voice coils
Tune for enhanced low frequency performance
Circumaural design contours around the ears for excellent sound isolation in loud environments
Convenient single side cable exit Magnet neodymium Designed for studio tracking and mixing
This brings us to the last model in our selection. In the course of the tenth place, we decided to finally present you with a model that should primarily be aimed at newbies. This fact is mainly due to the low price, which is normally well below the estimated sums of the headphones presented so far. In terms of design, the ATH-M20x comes with a reduced presentation that leaves no room for optical extravagance. The plastic elements used appear solid and robust but do not achieve the material sophistication of higher-priced products.
At least the ATH-M20x can boast a pleasantly lightweight. The 190-gram, fully enclosing headphones never run the risk of exerting unpleasant pressure on your head. The passive attenuation of ambient noise is solid without completely isolating it. The headphones are connected by means of a 3-meter-long jack cable, which, unfortunately, cannot be exchanged. Nevertheless, the generously dimensioned cable length never gets in the way of your freedom of movement. The sound masters the common demands and scores with nuanced fine-tuning. The bass does not appear unnecessarily dominant; highs and mids are precisely reproduced and have a natural character. A reliable entry-level model for a tight budget!