Enjoying unadulterated listening pleasure is the highlight for every music lover. In order to fully enjoy the sound of music, headphones offer the right conditions. However, there are different models of headphones that transmit sounds of different quality. Ordinary headphones are beneficial for enjoying music but not for everyday use when music is only to be heard in the background. Bone conduction headphones are a variant that allows listening to music and yet does not block out ambient noise.
In this guide, you will learn everything you need to know about bone-conduction headphones, and we will explain how sound is transmitted to bones. We also explain how to find the best bone-conduction headphones.
What are bone-conduction headphones?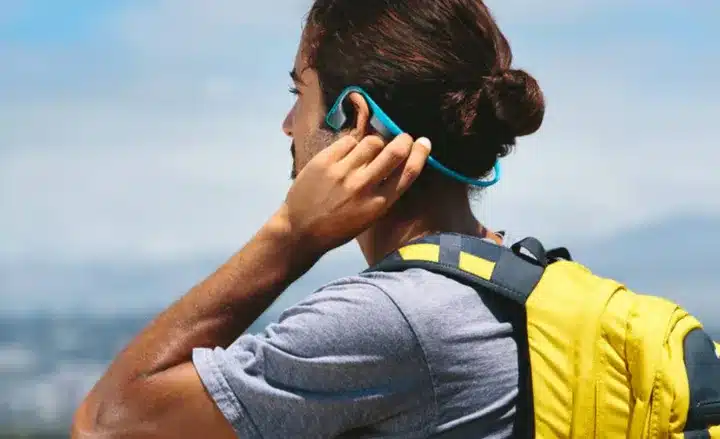 Bone conduction headphones are headphones that guide sound in the form of vibrations directly into the human ear. They are in direct contact with the head and with the bones behind the ear and rest on the back of the cheek. These headphones are relatively small and can therefore be worn inconspicuously on the go. In contrast to conventional headphones, bone conduction headphones have no sound insulation so that the ear remains free and receptive to all noises from the environment. This has both advantages and cons.
How do bone-conduction headphones work?
These headphones do not conduct sound through the air but rather through vibrations via the bones in the inner ear. These vibrations are processed directly by the cochlea. This avoids the detour of the sound via the ear canal, eardrum and ossicles, as is the case with normal headphones.
What are bone conduction headphones used for?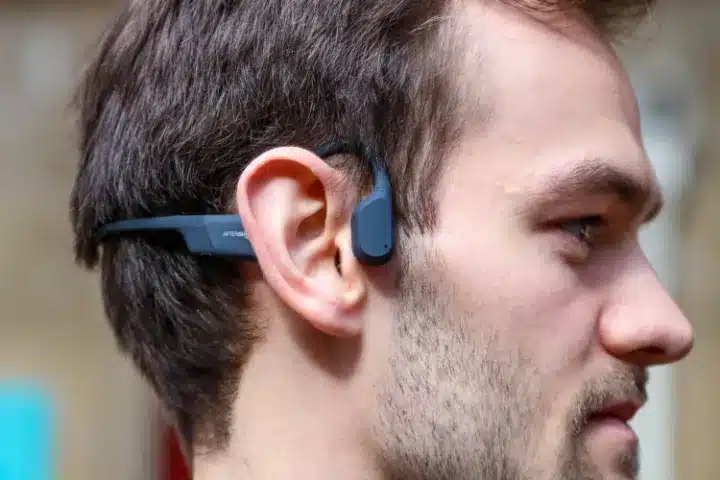 Bone conduction headphones are characterized by a number of advantages and can also be used when conventional headphones cannot be worn. The most important areas of application of bone conduction headphones are primarily:
This type of headphones is best for athletes, drivers, or cyclists. Since these headphones do not isolate the ear, all ambient noises, such as shouting or honking, can still be heard.
But people who wear hearing aids also benefit from using these headphones. The normal auditory canal is bypassed by transmitting the sound via vibrations.
Bone conduction headphones are also suitable for craftsmen who want to listen to music in a relatively noisy environment while they work. These headphones can also be used if you have to wear earplugs to protect your hearing for professional reasons.
Advantages and Cons of bone conduction headphones
Bone conduction headphones have both advantages and cons. The main advantages are:
Less likelihood of hearing damage
No suppression of ambient noise
Good wearing comfort
Since these headphones process and transport sound differently than conventional headphones, the burden on human hearing is also relatively low. Hearing damage due to loud tones does not occur here.
In addition, despite wearing headphones, ambient noise can be heard without restriction, which is of primary importance in traffic. Furthermore, bone conduction headphones are characterized by their comfortable wearing style.
However, bone conduction headphones also have some cons compared to conventional headphones.
No isolation
Bad sound quality
Since bone-conduction headphones are not isolated from ambient noise, they are still perceived and can even drown out the sounds from the headphones.
In addition, the sound quality is poorer than with conventional headphones. Especially basses are hardly transmitted.
The 5 Best Bone Conduction Headphones Reviews
The best bone-conduction headphones have already been tested by numerous customers and specialist magazines and are very obese with consumers. The five best models are listed and briefly described below.
AfterShokz Aeropex Open-Ear Wireless Bone Conduction Headphones
Bone conduction headphones give you a perfect sense of the environment as the sound vibrates through your bones, not your eardrum.
AfterShokz Aeropex has rubberized ear hooks and stays in place during training. They are designed for an active lifestyle and offer a lot of stability thanks to the hooks.
The waterproof and dustproof design (IP67) protects the headphones from water and small particles such as sand and dust. So you can confidently use them in places where other headphones would fail.
The AfterShokz Aeropex are a better model than the previous version of the brand, the AfterShokz Air. In comparison, they have a longer battery and are 30% lighter.
You may not like the feel of the vibrations on your cheeks. It can take some time to get used to. They also don't quite compete in sound with traditional, regular headphones. The sound is definitely the best one can get from bone conduction technology. The bass has been improved over the Air model but is not entirely perfect. There are several sound presets to choose from.
If you want to keep your hearing free and have the best bone conduction audio quality currently on the market, then the AfterShokz Aeropex is the place for you.
Pros
Good Bluetooth connection
The device has an astonishingly good 5.0 Bluetooth connection.
Rain resistance
This model is, to some degree, waterproof, and you can also use it in the rain.
Sound quality These headphones offer the best sound available today.
Good battery
Performance The battery will last up to 8 hours
Cons
Not particularly ergonomic
Especially for people with narrow or small heads, the headphones do not fit perfectly.
AfterShokz Air Open Ear Wireless Bone Conduction Headphones
AfterShokz Air Bone Conduction Wireless Bluetooth Headphones, Slate Grey
Rebranding Update - Aftershokz has been renamed as Shokz. Welcome to SHOKZ!
Open-Ear Design - Patented bone conduction technology delivers audio through the cheekbone, keeping you connected and aware of your surroundings.
Comfortable & Durable - Experience comfort with our wraparound titanium frame for a light and flexible design.
Multifunction Button - Easy controls to play, pause, skip, activate voice assistant, and answer calls
Sweatproof - IP55 certified to repel sweat, dust, and moisture. Perfect for withstanding even the rainiest runs.
There are some models on the market that are some of the best bone-conduction headphones. The American company AfterShokz is the market leader in this area. It specializes in the manufacture of headphones, which transmit sound to the temporal bone through vibrations and thus transport it into the human ear.
By far, the best model is the AfterShokz Trekz Air. The model weighs only 30 grams and is made of sweat-repellent titanium.
Pros
Sporty design
The design of this model is characterized by its modern elegance and also looks extremely sporty.
Comfortable to wear
Due to their low weight, the headphones are easy to wear and feel comfortable on the skin.
Simple operation
There is a multi-function switch on the left. The volume switches are located on the right.
Cons
Bad bass quality
Like most bone-conduction headphones, this model also reproduces the bass very poorly.
Sometimes too loud
If you turn the volume up over 80%, the music through the headphones can also be heard in the immediate vicinity.
High sensitivity to
Wind Strong winds or the wind while cycling can drown out the sound from the headphones. B075FMK7SD
The best price-performance ratio: AfterShokz Sportz Titanium
Aftershokz Sportz Titanium Open Ear Wired Bone Conduction Headphones, Onyx Black, (AS401XB)
Bone conduction technology creates mini vibrations, sending sound through the cheekbones, directly to the inner ears - for awareness and comfort.
Enjoy twelve hours of continuous music on a single charge from the 1 inch x 2.5 inch battery compartment.
Titanium headband is lightweight and flexible for durability and portability. Cord is 4 feet long to easily reach your phone on-the-go.
PremiumPitch Plus guarantees a premium audio experience, including wide dynamic range and rich bass.
Repels sweat, dust and moisture, from workouts to wicked weather.
Many models offer a relatively good price-performance ratio but differ in the durability of the batteries or the battery life.
This model offers the best price-performance ratio. These headphones are wired and require regular charging. With a battery life of around 12 hours, they have a significantly longer shelf life than Bluetooth models.
Pros
Attractive design
The design of this model differs only slightly from the above model, but it is available in several colours. The colours red, blue, pink, green and grey are available.
High wearing comfort
Due to their low weight and shape, these headphones can be worn for hours without feeling a bit disturbing.
Relatively good sound quality
Compared to other models, these headphones also ensure good quality when reproducing bass.
Cons
Weaker batteries.
The batteries are weaker than the other model from AfterShokz and do not last as long.
Deficiencies in operation
There is no separate playback button.
Bluetooth Bone Conduction Headphones
Bluetooth Bone Conduction Headphones - Open Ear Stereo Sport Running Headset w/ Revolutionary Bone Induction Technology for Smart Cycling and Sports, Wireless Bluetooth Audio,Black (PSWBT550.5)
Maximum operating distance : 35' ft.
SAFE FOR SPORT USE: Traditional earbuds cover the eardrums. Obstructed hearing reduces balance and coordination and is dangerous. Revolutionary headphone design is IPX6 water resistant - smart for outside fitness, workout, running, sports, cycling
BONE CONDUCTION TECHNOLOGY: The ergonomic mini open ear headset speakers rest comfortably over the ears and sends audio sound vibrations behind the cheekbone, directly to the inner ears. Experience both your environment and your music simultaneously
BLUETOOTH CONNECTIVITY: Earphones stream Bluetooth in stereo up to 35' from any iphone, android smartphone or laptop with bluetooth. Voice microphone mic allows clear calls from your apple iPhone, android phones while listening through the headset
SIDE PANEL BUTTON CONTROLS: Adjust the bone conduction headphones volume - Play and skip tracks without taking out your iphone or android mobile phone. Check power from the built-in LED indicator. Flexible wraparound frame is sport ready sweatproof
In order to find the best and, at the same time, cheapest model, a comparison is always recommended. In general, the following models are currently considered to be the cheapest variants.
This model works with Bluetooth and is one of the cheapest on the market. These bone-conduction headphones are primarily suitable for running, cycling or hiking.
Pros
Robust design
The use of certain materials means that these headphones can hardly be damaged.
Easy to carry
The headphones are characterized by their low weight and do not squeeze when worn.
Simple operation
This model also has a multi-function switch and other switches to control the volume.
Cons
Batteries do not last long.
After around four hours at normal volume, the battery is empty. It takes around two hours to charge.
Poor reproduction of basses
Here, too, a deficiency in the reproduction of basses can be identified.
Very loud and sensitive to wind
This model is, above all, very loud. If you turn the volume over 50%, the music can also be heard clearly in the surroundings. However, stronger winds can drown out the sound from the loudspeaker.
Bone Conduction Headphones Bluetooth V5.0 – Vidonn F1
Sale
PHILIPS GO A6606 Open-Ear Bone Conduction Bluetooth Headphones with Lightweight Neckband, Waterproof, Black
RUN SAFE IN ANY ENVIRONMENT: These bone conduction headphones are designed with an innovative acoustic system which leave your ear canals completely open, so you can stay aware of your surroundings during outdoor workout sessions. They also come with a high visibility LED safety light that can be controlled through the Philips Headphones app.
SECURE FIT AS YOU MOVE: The lightweight titanium neckband is flexible and durable. And they rest directly on your cheekbones, so will stay put no matter how you move.
IP67 WATERPROOF AND DUSTPROOF: With an IP67 rating, Philips A6606 is ready to explore the world with you, and join you in the shower afterwards. Hit the beach, or the gym. Don't let rain and sweat spoil your fun.
ALWAYS READY TO GO: You get up to 9 hours playtime from a single charge, and a quick 15-minute boost will give you another hour.
LONG-WEARING COMFORT: Traditional over-ear headphones and earbuds may leave your ears feeling sore after a few hours, especially if you have sensitive ear canals. These bone conduction headphones certainly won't. They also fit snugly around your ears, no matter the size and shape of your head.
If you are looking for lightweight, comfortable, and durable bone-conduction headphones for less, read on.
These headphones are extremely light and comfortable to wear. The titanium alloy makes them very flexible and yet durable. Thanks to their bone conduction technology, they enable you to know exactly what you are around. This is useful in many cases, especially with athletes.
Pros
Sporty design
The design of this model is sporty and elegant.
Robust design
Compared to other plastic headphones, this model appears relatively robust.
Good wearing comfort
Thanks to the rubber cover, the headphones lie gently against the skin.
Ease of use
The headphones also have remote control buttons, a built-in microphone for phone calls and a rechargeable battery that lasts up to six hours.
Cons
Bad bass reproduction
As with most models, these headphones do not convince in the bass range.
Very sensitive to wind
Here, too, gusts of wind or the headwind can drown out the sound from the headphones.