If you are an active scuba diver, you know that bringing technology under the water can be dangerous. However, companies like Casio are trying to beat out the pressure water places on devices by offering new technologies that can be brought into the deep – such as waterproof watches. In this guide, we'll talk about the best Casio dive watches by breaking them down into specific categories for every type of diver.
A Quick Look at the Casio Brand
Casio is a Japanese company founded in 1946 that is well known for their manufacturing of consumer electronic devices. Their line of products includes watches, mobile phones, calculators, projectors, digital cameras, and more.
Casio was one of the earliest manufacturers of quartz watches, which delivers a very precise frequency that keeps the watch extremely accurate. A pioneer in the watch industry, Casio was an early adapter of many advanced watch features such as multiple time zone, temperature, and GPS displays.
Today, Casio is best known for their wide range of durable, high-quality digital and analog watches – including models specifically designed for underwater divers. They offer a variety of different dive watches with unique features that will suit any kind of diver.
Casio continues to act as an innovator in the watch industry, as they recently released a new line of water resistant smart watches for the everyday active user.
Casio Dive Watch Buying Guide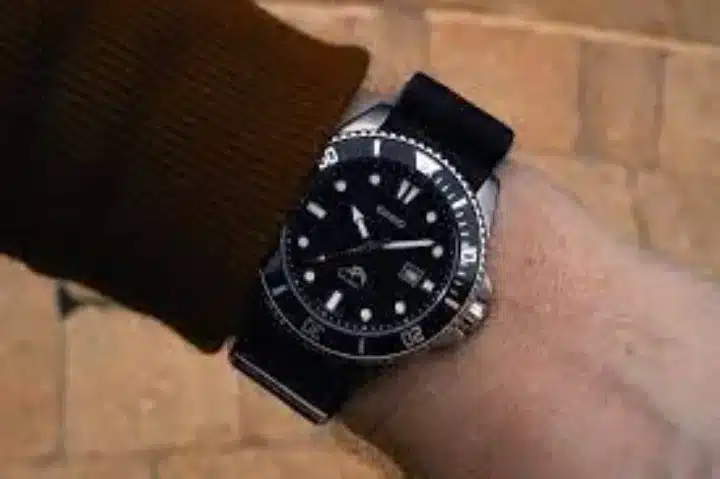 Below are some of the things that anyone who wants to take their watch underwater with them should look for.
This guide will help you weed out the watches that are too fragile to follow you into the depths from the one's that will help you have an optimum and safe dive.
Maximum Depth – All Casio dive watches are suitable for shallow underwater activities such as swimming and snorkeling, but there are only a few of the models can dive down deep. Many of the cheaper models aren't suitable for snorkeling, and will likely malfunction if brought below 50 meters.
Shock Resistance – A good dive watch should have adequate shock resistance, especially if it is being used for deep water adventuring. Not only will shock resistance help the watch withstand the pressure, it also keeps it safe in case you accidently bump it against something in the dark water.
Watch Band – The band is what keeps the watch securely to your wrist, and should feel comfortable at all times. Most Casio dive watches are made with a resin band, which is a flexible plastic material that is well known for its durability. Casio watches can be easily adjusted using the interlocking buckle.
Type of Watch – Analog watches are the most basic kind of watch, and are often much more durable under heavy pressure. However, they often lack many of the features of digital clocks, such as alarms and calendars. Digital clocks are typically easier to read, especially when paired with LED backlighting.
Battery Type – There are three basic types of batteries found in Casio dive watches: solar, rechargeable, and disposable. The type of battery will dictate how long the watch will run before needing to be changed or recharged.
Timekeeping Capabilities – All Casio dive watches are made with a quartz-regulated electronic oscillator, which provides extremely accurate timekeeping. However, not all models offer additional timekeeping capabilities such as a stopwatch or alarm setting.
Special Features – Some of the more advanced Casio dive watches have new technology innovations such as GPS, Bluetooth connectivity, and altimeter/barometer sensors. These features can make diving easier, and can give you peace of mind while under the water.
Casio Dive Watch Frequently Asked Questions
Why are Casio dive watches water resistant and not waterproof?
These days, it takes a lot for a product to be labeled as completely waterproof, which means it is completely impervious to water. While many Casio dive watches can withstand the high pressures of the water, it is nearly impossible to create a completely waterproof dive watch.
Can I re-seal a Casio dive watch if water gets in?
Even though Casio dive watches are water resistant, there is still a chance that the seal can break and let water in. If your Casio dive watch breaks, there is a possibility that you can reseal the watch to restore it to its original water resistant state. You can either bring the watch into a specialist, or send it in to an authorized Casio support center.
How do I replace the battery on a Casio dive watch?
Should your Casio watch battery die, you can easily replace the battery on your own. Simply remove the watch back by loosening the screws, and gently pull the dead battery out with a pair of tweezers. Full battery replacement instructions will be included in your Casio dive watch instruction manual. We recommend that you wear protective gloves when changing the battery to prevent any transfer of oil to the delicate watch parts.
Can I clean a Casio dive watch?
There is a simple way to clean your Casio dive watch using items that can be found around the house. You can start by running the Casio watch under lukewarm water with a mild soap, drying it off with a soft towel. To clean the watch face, a toothbrush or Q-tip into some warm, soapy water before gently brushing it along the watch face. Never scrub or press down hard.
Our Top Picks for Best Casio Dive Watches
Best Professional Casio Dive Watch: Casio RANGEMAN Master of G Stainless Steel Solar Watch
The Casio RANGEMAN watch is a solar powered digital wristwatch that is built to withstand even the toughest conditions. It has a shock resistant triple sensor system, which can provide the user with altitude, pressure, temperature, and compass directions. It has four circular buttons that allow you to control the watch, and an LED backlight that automatically lights up in the dark so you can use it at night or in deep water.
The Casio RANGEMAN dive watch has an impressive depth resistance of up to 200 meters, or a little over 650 feet deep. This makes it extremely suitable for deep-sea adventures, as most scuba divers only go about half that distance down when diving. The strap is made of a durable resin that fits securely around the wrist so you won't have to worry about it slipping off.
Time automatically calibrates on the RANGEMAN with an auto receive function up to six times a day. You can also program it to manually receive the latest signal reception results. The RANGEMAN has a total of 31 time zones, and a sunrise/sunset time display.
Best Budget Casio Dive Watch: Casio Sport Analog Dive Watch
Sale
Casio Men's MRW-210H-1AVCF Diver Style Analog Display Quartz Black Watch
All-black watch with 60-second bezel, arrow hands, 12 and 24-hour indices, and day/date window at 3 o'clock
50 mm resin case with mineral dial window
Quartz movement with analog display
Ribbed resin band with buckle closure. Accuracy - 20 seconds per month
Water resistant to 100 m (330 ft): In general, suitable for swimming and snorkeling, but not scuba diving
The Casio Sport Analog Dive Watch has a classic dive watch look with all of the basic features you need to keep time under the water. It has a large 44.6mm face with a bright analog display for easy timekeeping. It can withstand depths of up to 100 meters, or just over 325 feet.
It has a bi-directional rotating bezel, which allows you to easily adjust the time. This analog watch has a three-hand design, and also displays the date and day of the week. The numbers on the face of the clock are large, with the hour reading on the inner ring and the minute/second reading on the outer ring. This makes it easy to tell the time at-a-glance.
There are no special features on the Casio Sport Analog Dive Watch, as it was designed as an inexpensive way to tell the time while under the water. It does come at a variety of color options, making it an attractive accessory for the diver on a budget.
Best Every Day Casio Dive Watch: G-Shock G100-1BV Black Resin Sport Watch
Sale
The G-Shock line by Casio is well known to be some of the most durable watches on the market, making them a great accessory for an active diver. The G-Shock G100-1BV is an analog clock that is shock resistant, water resistant, and magnetic resistant, so it can handle just about anything you throw at it. It has a disposable battery system, with an approximate battery life of 3 years.
The G-Shock G100-1BV can withstand depths of up to 200 meters, making it one of the best watches for deep-sea divers. It has an EL Backlight with Afterglow, so you'll be able to see everything even if you're exploring down in dark sea caves. This model offers additional features such as dual time display, daily alarm, auto calendar, and a 1/100 second stopwatch.
Best Casio Dive Watch for Fashionable Divers: Casio LRW-200H-2BVCF Stainless Steel Dive Watch
Sale
This value timepiece was designed with ladies in mind, but any diver who wants to add a pop of color to their wrist will love the 9 color options on the LRW-200H-2BVCF.
This watch has a 39 mm stainless steel case, with a mineral dial window that helps keep the watch shock resistant. It features a quartz analog three-hand display, which can easily be adjusted using the bi-directional rotating bezel.
The Casio LRW-200H-2BVCF is able to withstand a depth of about 330, making it suitable for swimming or snorkeling. It is not advised for use in scuba diving, as the pressure will likely damage the delicate timekeeping elements.
Best Casio Dive Watch for Children: F108WH Water Resistant Digital Watch
Sale
Casio F108WH Water Resistant Digital Blue Resin Strap Watch
Square sport watch featuring LED light, daily alarm, hourly time signal, 1/100 second stopwatch, measuring modes, and seven-year battery, Auto-calendar set at 28 days for February.
Quartz movement with digital display
Mineral crystal dial window
Blue resin band with buckle closure
Water resistant to 50 m (165ft): In general, suitable for swimming and snorkeling, but not scuba diving (100 meters)
While it is not recommended to take children deep-sea diving, there are still plenty of underwater activities for children to take part of.
The F108WH Water Resistant Digital Watch has a square digital face with LED lighting that makes it easy too read the time. It is water resistant up to 50 meters, or a total of 165 feet. This should be more than enough for a fun day snorkeling at the beach with the family.
The F108WH Water Resistant Digital Watch has a few added benefits that you and your children are likely to find useful. This includes features such as a daily alarm setting, 1/100 second stop watch, automatic calendar, measuring modes, and more. The battery is said to last up to seven years, so it's more likely that your child will grow out of the watch before it dies.
Best Smart Casio Dive Watch: Casio Pro Trek Outdoor GPS Sports Watch
Sale
Casio Men's Pro Trek PRG-270-1 Tough Solar Triple Sensor Multifunction Digital Sport Watch
Tough Solar Power,100M Water Resistant,Low Temperature Resistant (-10 C / 14 F),Module 3415,Approx. Battery Life: 9 months on full charge (without further exposure to light)
Accuracy: +/- 15 seconds per month ,Full Auto Calendar (Pre-programmed until the year 2099),5 Daily Alarms (4 one-time and 1 snooze alarm),World Time 31 time zones (48 cities + UTC), city name display, daylight saving on/off
Full Auto LED (Super Illuminator) Backlight with Afterglow,Countdown Timer Measuring unit: 1 second Countdown range: 24 hours Countdown start time setting range: 1 minute to 24 hours (1-minute increments ans 1-hour increments)
Barometer Display range: 260 to 1,100 hPa (7.65 to 32.45 inHg) Display unit: 1 hPa (0.05 inHg),Thermometer Display range: -10 to 60 C (14 to 140 F) Display unit: 0.1 C (0.2 F)
Digital Compass Measures and displays direction as one of 16 points Measuring range: 0 to 359 degrees Measuring unit: 1 degree 60 seconds continuous measurement Graphic direction pointer Bidirectional calibration and Northerly calibration function Magnetic declination correction Bearing memory
New technologies have paved the way for innovative consumer electronics, and Casio is constantly striving to keep up with the trends. Their newest line of watch products is the Casio Pro Trek series, which combines the classic watch look with modern improvements. The Casio Pro Trek Outdoor GPS Sports Watch connects to Andriod Wear 2.0 or Wear OS by Google, which gives you access to a variety of unique features.
The Casio Pro Trek has multiple sensors, which allow it to give readings on air pressure, altitude, acceleration, and more. You can navigate through the watches application and tools using the three buttons on the right side of the watch. You can download smart watch apps through the Google Play Store, and even send messages through your smartphone from your watch.
While the Casio Pro Trek is water resistant, we wouldn't quite call it a dive watch. The Pro Trek series of watches are able to withstand the water pressure only up to 50 meters, so it's not recommended that you take them during deep sea diving. However, these watches can easily withstand the water during short swimming and snorkeling sessions, making them a great accessory for any water lover.
Final Thoughts on Casio Dive Watches
Casio is a company that strives to create the best consumer electronics, and has been at the head of the wristwatch industry since releasing some of the first quartz watches.
Casio offers a variety of different water-resistant watches, so there is something for just about everyone who enjoys taking a dive. We are excited to see what new innovations they will have in the years to come.