After more than one week of research and testing, we have found that the AT&T EL52300 DECT 6.0 is the best cordless phone for most potential customers. It comes with every possible feature one could reasonably expect from a high-end cordless phone.
Cordless Phone Reviews
A decade ago, cordless phones were the most common household items. Though today smartphones have become predominant in the telephone market, still you will find a number of reasons to have a high-end cordless phone for your home.
The major advantage of a cordless phone is that you don't have to worry about call quality when cell towers are overloaded particularly this can be very useful in case of emergencies. Also, they are linked to your physical address which makes it easier for emergency responders to find you. Another key benefit is the remarkable call quality so you can get rid of faded or dropped calls.
They are easy and simple to use and therefore we have tested several cordless phones to check the quality, efficiency and other significant features. After testing each and every aspect of a cordless phone, we picked the best five among them.
All the cordless phones we reviewed come with built-in answering machines, and have caller ID, earpiece speakerphones, and conferencing proficiencies. We have also included a buying guide to make you familiar with the most significant features a cordless phone must have for excellent functioning.
Top 5 Cordless Phones
Best Overall Cordless Phone – AT&T EL52300 DECT 6.0 Cordless Phone
The AT&T EL52300 DECT 6.0 Cordless Phone comes with tons of features that make it a very useful phone system to have. The device is suitable for larger homes as it features three handsets that can hook up with just one jack.
It offers you great handset speakerphones, a highly reliable digital answering machine system, and exceptional sound quality, range, and protection. It makes sure the user doesn't miss any of the important phone calls by providing you with some significant features like Caller ID and Call waiting.
One of the most popular components is the intercom system which lets you talk to people in other rooms in the most effective way. Moreover, the illuminated keypad and display are easy to read no matter if the lights are dim.
Besides, with AT&T EL52300 DECT 6.0 Cordless Phone you can have 14 minutes of recording time on the answering machine when anyone calls you while you are around. You can make the best use of the handset, the base, or call from any smartphone to retrieve your text messages. Finally, it's up to you to either mount the phone on the wall of your home or simply place it on the table.
Best Panasonic Cordless Phone – Panasonic KX-TGE274S Cordless Phone
Featuring a classic design, the Panasonic KX-TGE274S is made of highly durable plastic that won't break even if dropped. They offer a comfortable grip to hold for longer durations. The phone size is large enough to be balanced on the shoulder while you are having long conversations. Additionally, you will find large illuminated buttons with bold numbers thus making it easy to dial in the dark.
The phone's base features a large and labeled dial pad which makes efficient use of the base's loudspeaker. Also, you can use the speakerphone for privacy. This can be very convenient while you are doing multiple tasks and want to freely move around. Talking about the phone's backlit display, it offers big, clear, and easy-to-read text.
If the Panasonic KX-TGE274S cordless phone is paired with your smartphone, you can also receive a notification as soon as you get a text message. You can set verbal caller ID as well if you want the phone to announce who is calling.
Every handset comes with a headset jack so you can plug it in for hands-free calls. As the phone feature Bluetooth functionality, you can pair the wireless headset to the phone. Lastly, some of the other exclusive features include conference calls, an alarm, a handset locating system, and an intercom that allows you to communicate with other family or roommate members.
Panasonic KX-TGE474S Cordless Phone
Sale
Panasonic Link2Cell Bluetooth Cordless DECT 6.0 Expandable Phone System with Answering Machine and Enhanced Noise Reduction - 4 Handsets - KX-TGE474S (Silver)
LINK2CELL BLUETOOTH ENABLED - Link up to two smartphones via Bluetooth to make and receive Cell/smartphone calls anywhere in the house with link2cell cordless handsets
TALKING TEXT SENDER ALERT - When a call comes in through your Link2Cell Smartphone or cell, the cordless phone will announce the name or phone number using the text-to-speech function
Enhanced cordless phone sound quality - noise reduction Automatically suppresses background interference while enhancing voice tones for clearer conversation on the base unit & Cordless handsets
Powerful Phone battery backup – with a charged cordless Handset in the base unit, enjoy up to 12 hours of talk time when the power goes out , Intelligent Eco Mode
Secure long-range Phone signal - DECT 6. 0 Wireless technology offers a long-range cordless phone and is ideal for homes and apartments with thick walls.Charge Time:About 7 hours
The Panasonic KX-TGE474S phone system is full of great features including Bluetooth compatibility, a 13-hour battery standby, and four cordless earpieces. Featuring an advanced telephone answering device, it let users record messages whether they are home or away.
While you are away from home, you can still receive a message to your listed smartphone device or workplace phone. You can instantly assimilate two smartphones into this system through Bluetooth.
Contacts can also be saved in the system and retrieved through any handset in order to receive vocal notifications whenever a call or text message is received. Apart from that, one of the most interesting features is located mode which will help you locate misplaced devices, a large keypad, and improved volume.
You will find the Panasonic KX-TGE474S Cordless Phone as one of the most practicable and reliable systems currently available on market. It's a complete package that will alert you as the unit emits an audible beep when there is a message. On top of that, the enhanced noise reduction makes sure to minimize background noise while at the same time enhancing the caller's voice to increase call quality.
Best Cordless Phone for Senior People – AT&T CLP99483 Cordless Phone
AT&T CLP99483 DECT 6.0 Connect to Cell Phone Answering System with Dual Caller ID/Call Waiting (4 Pack) Silver/Black
A built-in USB dock means you can make and receive cellular calls from your home system while charging your mobile phone at the same time.
Download up to 6,000 cellular phonebook entries to the cordless handsets.
Know when your Android mobile phone receives a text, e-mail or social media update. Each handset beeps and displays which kind of message was received. You can also receive calendar reminders through the system.
Experience the best in long-range coverage and clarity, provided by a unique antenna design and advances in noise-filtering technology.
Pair up to two cellular lines and one landline with your cordless system. Then, enjoy the freedom to make and receive calls on all three lines—all at once.
The AT&T CLP99483 cordless phone features a perfect base and the handsets have clear speakerphones that sound impressively. It would be a great choice for a conference call in a boardroom or when you are dealing with several employees in an office environment. You can instantly pair a wireless Bluetooth headset to the phone for hands-free functioning.
In addition to pairing a headset, you can also link up two smartphones using AT&T's Connect to Cell technology. To charge your cell phone, you can use a USB port on the side of the base. Once you pair your cell phone, you can make and receive phone calls along with forwarded messages to your cordless handsets.
Furthermore, with the large and illuminated buttons, dialing is more comfortable and easy than ever before. These buttons have big bold numbers that are easily readable which makes it one of the best choices for senior people who have a weak vision.
The AT&T CLP99483 cordless phone offers you an intercom as well so you can instantly communicate with your family members or coworkers. Another smart feature of the cordless phone is compatibility with 12 handsets. These handsets are ideal for both home and work environments.
Best Two-line Cordless Phone – Vtech DS6151 Dect 6.0 2-Line Expandable Cordless Phone
VTech DS6151 2-Line Cordless Phone System for Home or Small Business with Digital Answering System & Mailbox on each line, Black/silver 5" x 8.5" x 6.5" x 4.8"
DECT 6.0 digital technology provides the best sound quality, security and range in cordless phones
Interference free for crystal clear conversations—won't interfere with wireless networks and other electronic devices
Protect yourself from identity theft with digital security—your call is digitized and encrypted, making it nearly impossible for someone to eavesdrop
Digital answering system (includes a mailbox for each line) with remote message retrieval—call in from anywhere to get your messages.Hearing Aid Compatible
Expandable up to 12 handsets using only one phone jack—uses DS6101 accessory handsets. Note-if messages on the answering system are very difficult to hear press volume on the handset or telephone base to increase the speaker volume. If hear noise on the cordless handset and the keys do not work make sure the telephone line cord is plugged in securely
With Vtech DS6151 cordless phone, you can dial and receive calls on two different phone lines with using one phone. The device comes with amazing features including 13 minutes of recording time and a digital answering system that will automatically answer the calls when you are not available.
The cordless set includes a mailbox for both lines. Using a single touch of a button, the base and handset speakerphones can make hands-free conversations with ease. The Vtech DS6151 features a Dect 6.0 digital technology that provides you with superlative sound quality, long range, and complete security.
Additionally, the backlit keypad and display make it incredibly easy to dial in a dark or low-light setting. It let you save and dial the 50 most frequent numbers. Also, you can have a conference call between handsets or phone lines. Finally, the device is expandable to up to 12 handsets using only one phone jack.
Cordless Phone Buying Guide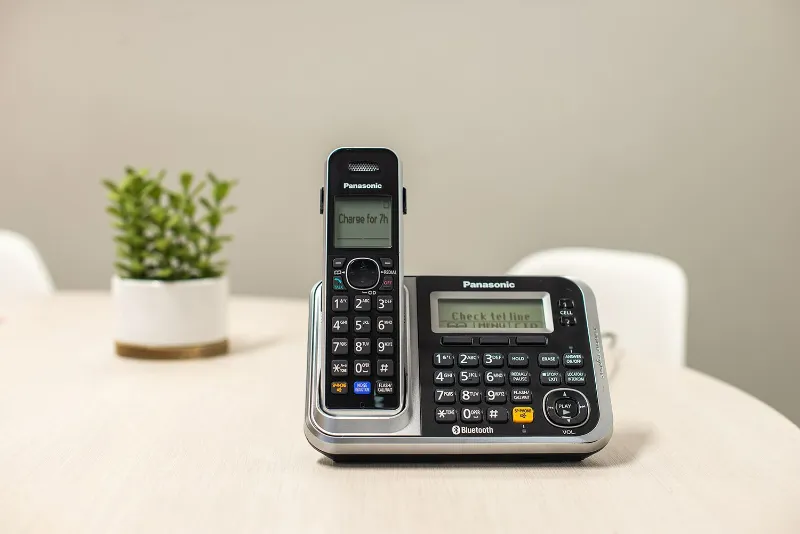 How to Choose
Here are some important things that you must keep in mind while purchasing a new cordless phone.
Number of Extensions
Usually, single handset phones are suitable for smaller homes where you are always close to the phone. Or else, you can go for a multiple-handset phone which supports a number of handsets using one base. Every extra handset comes with its own charging cradle without requiring a phone jack which makes it more convenient to place a phone where you want it. Also, with some models, you can purchase a separate handset and charging cradle.
Features
Many cordless phones offer a caller ID, a headset jack, a speakerphone, and a ringer in both the base and handset. You can know more about the features by checking the phone's packaging or downloading the instruction guide from the company's website. A phone with more features comes with a higher price tag.
Answering Machine Recording Time
The best cordless phones come with built-in answering machines, however, the time for recording messages can vary. An excellent cordless phone can hold up to 25-30 minutes of audio messages whereas you will commonly find most phones with 10 minutes recording capacity.
Bluetooth Compatibility
The latest cordless phone models let you connect Bluetooth devices such as smartphones and wireless headphones. This allows you to enjoy some useful features such as notifications whenever you receive a text message on your smartphone. The Bluetooth compatibility makes these sets more versatile.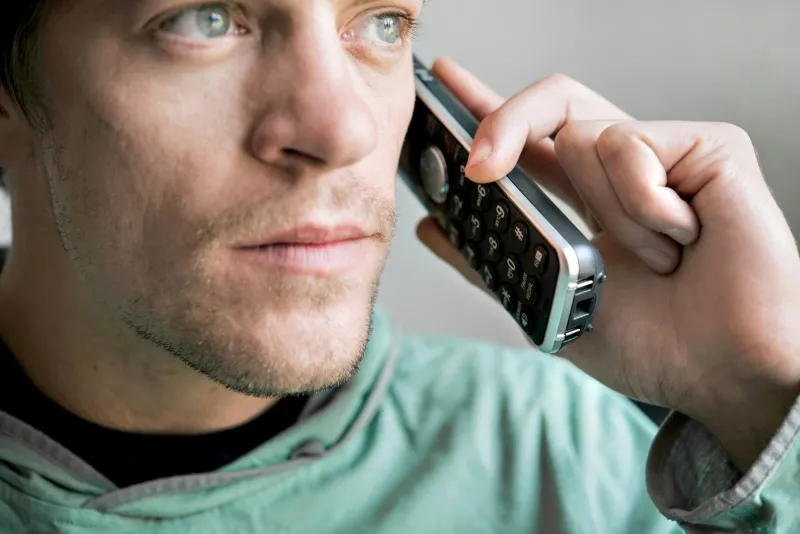 Weigh Performance Factors
Many cordless phones have excellent voice quality. Some are as good as the top-rated cordless phones. Usually, fully charged batteries provide 7 hours or more for continuous conversation before they are required to recharge.
It's important to notify when a battery can no longer hold a charge, use a replacement battery instead which costs around $10 to $25. Some phones are compatible with less expensive AA or AAA rechargeable batteries that can be later recycled.
Range
The range of a cordless phone is a crucial factor to keep in mind as you will definitely don't want to drop a call only because you walked out of your phone's range. A decent cordless phone is capable of maintaining line up and a strong connection up to 250 feet. Many cordless phones have 200 feet range which is also satisfactory.
Give it a Try
While purchasing a cordless phone, the best thing you can do is pick it up and try it out. If the earpiece has rounded edges and a settled center that fits over the middle of the ear, it can be a great and comfortable option to choose. Make sure to check the buttons and controls as well to know whether they are reasonably sized and clear.
Consider Usability Issues
Many cordless phones are designed in a way to boost usability. These sets include easy-to-read buttons, display, visual ringers that indicate an incoming call, talking caller ID, and a volume boost. These features make the usability of a phone more effective.
Battery Backup
A lot of cordless phones might not be able to work without electricity as they require some sort of power backup system. Some of them feature a compartment in the charging base for an extra handset battery pack or alkaline batteries for base-power backup. Many phones use the stored power from the handset's battery to function.
Don't Discard Your Corded Phones
One of the most important factors you should keep in mind is not to disconnect the cordless phone with traditional landline service in your home. Most models do not need AC power to make and receive a call, however, electronic features such as an illuminated display and built-in phone directory might not function. Any phone linked to VoIP services or fiber-optic networks will not operate if you lose electric power and do not have a backup battery for the phone modem.
Know the Return Policy
Before purchasing a particular handset, always check the return policy. In case you face any unexpected problem that you can't resolve such as wireless interference, you can consult the manufacturer and return or replace the phone.
Conclusion
Cordless phones have come a long way with consistent improvements in functionality and technology over the years. Many models offer amazing features from high-quality call to Bluetooth compatibility according to your requirement.
We hope that by using the information in these reviews and buying guides, you will be able to compare different models and pick up the best one. Don't forget about important considerations and go through the customer's comments about the models you are interested in.