Shooting films with a digital SLR has become a new hobby for photographers. It's never going to replace true film cameras, but if you're ambitious, you can achieve a lot with a regular DSLR. Here are some of our favorite cameras for filmmaking: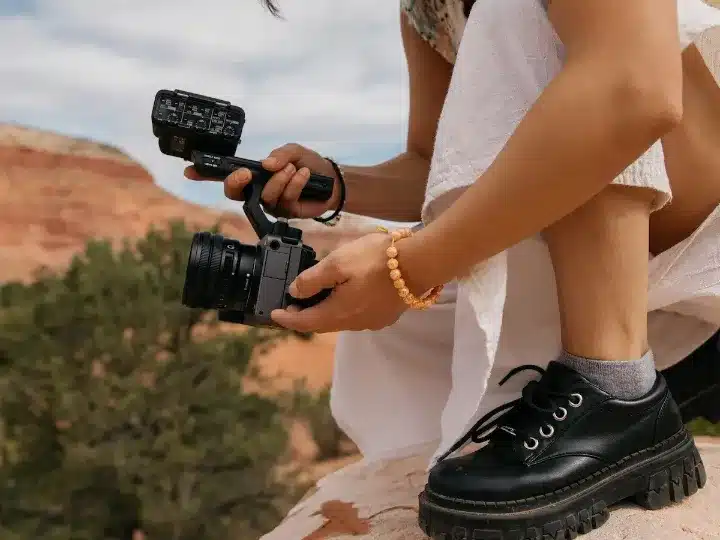 Canon EOS 5D Mark II
Canon EOS 5D Mark II Full Frame DSLR Camera (Body Only) (Old Model)
21.1-megapixel full-frame CMOS sensor, 14-bit A/D conversion, wide range ISO setting 100-6400
Body only, lenses sold separately,1-Year Canon U.S.A. Limited Warranty
DIGIC 4 Image Processor; high-performance 3.9 fps continuous shooting; Live View Function for stills
Full HD video capture at 1920x1080 resolution for up to 4GB per clip ; HDMI output
Updated EOS Integrated Cleaning System specifically designed to work with a full-frame sensor
If you're looking for the best DSLR to shoot film, the Canon EOS 5D Mark II should be the first camera you should consider. They used this camera to shoot the season finale of the TV show "HOUSE" on FOX, which we saw. We didn't even know it was filmed in a DSLR – the quality and footage was so good. We asked others what they thought and many couldn't even tell the difference. Spike Jonze even made a short film shooting exclusively with the 5D as well.
We've reviewed the Mark II here before, but it's an excellent camera in all phases of the game. It's packed with many features such as live view, AF micro adjustment, HDMI, and many image processing tricks at your disposal.
The EOS 5D Mark II offers video capture in HD quality at 1080p at 30fps. It captures mono audio using the internal microphone, so don't expect world class audio. If you want stereo quality, simply plug in an external microphone into a socket located in the side of the body.
We're not experts in shooting video, so we hired an independent filmmaker who used the Mark II to shoot films and saw several video clips he shot during his career, and really were amazed with the superb HD quality. Even in low light, the quality was pretty good, though it got a little grainy at places.
Ultimately, the HD video quality beats any other digital camera's video quality we've seen.
Frankly, we're excited at the possibilities of using the EOS Mark II for filmmaking. You can use large aperture lenses like the 135L from Canon to control the field depth.
If you're an independent film maker, or an aspiring one, we highly recommend buying the EOS Mark II. As mentioned, it's already been used by several creative people in the industry, even in mainstream TV shows like "HOUSE". We're excited to see what the new models of cameras will add to his feature. What's next? 4K resolution? 24 frames per second?
Canon EOS 7D
Sale
Canon EOS 7D Mark II Digital SLR Camera (Body Only)
20.2 MP CMOS sensor and ISO 100-16000
High spped continuous shooting up to 10.0 fps
65-point all cross-type AF system
Stunning Full HD video with Custom Movie Servo AF (speed and sensitivity)
Dual Pixel CMOS AF enables you to shoot video like a camcorder
The 7D is just as good as the 5D for filmmaking. The 5D is built around a brand new 18 megapixel sensor, but what caught our eye was the new viewfinder. It offers 100% coverage, and 1 X magnification, a huge improvement over its predecessor. It's pretty big, making it easy to focus and frame shots. The viewfinder really makes a huge different in the user experience and Canon really got it right with the 7D.
Like the 5D Mark II, it has a solid magnesium body, making it highly protective against dust, moisture and other weather elements.
Let's talk about the video movie. Like the Mark II, the EOS 7D allows you to manually control settings such as shutter speed, aperture and ISO level. It offers HD video capture in 1090 P at 30 frames per second. Alternatively you can choose 720P at 60 frames per second. Also like the Mark II it has mono audio by default, though you can use an external mike for stereo sound.
We looked at several video clips shot using the 7D, and they all looked great to the naked eye. Again, you won't find many DSLRs + point and shoots that offer HD video quality this crisp, clear and detailed. With other cameras, you will usually see some artifacts when you move it too much, but with the 7D this wasn't the case.
However, we did notice some rolling shutter artifacts at times. This was caused when shooting moving objects. We hear this is because image data is captured, then read off the chip sequentially one row at a time, instead of being captured at once. You'll notice the artifacts when you shoot subjects moving very fast from 1 side to the other, or when panning the camera.
The bottom though is that the EOS 7D is a great video camera that is a less expensive alternative to the 5D Mark II for filmmaking. It could definitely be improved in newer models – we'd like to see the ability to continuous autofocus while recording in the future. But it's still one of the best for filmmaking.
Panasonic DMC-GH1
Panasonic also has a solid camera for shooting video in the DMC-GH1. the GH1, unlike the 7D and 5D Mark II is not a full frame camera – it uses the new micro four thirds technology.
For starters, the DMC-GH1 is much lighter than the 2 cameras above because of the much lighter/smaller sensor and the absence of a mirror box. The GH1 has full manual controls for setting the ISO. A cool feature that comes in handy is the ability to change the shutter speed, and iris manually while you are filming (you don't need exposure lock).
The GH1 has a pretty cool LCD, which you can rotate, making it convenient for weird angle shots. There is no real true viewfinder here, which has its pros and cons. The pro is that it gives you the capability to live view in the viewfinder, not just in the LCD. So you can essentially shoot video with this camera up to your eyes.
We've taken a look at several clips shot using this camera, and the images look utterly amazing: clean, crisp, sharp with almost no noise. In low light conditions, we did notice some grainy artifacts in the video… not much, but noticeable at times.
If you're gonna shoot films with your DSLR, the DMC-GH1 is a great option. Granted, it's not going to be as good as the 5D Mark II, or even the 7D (it falls short in low light performance), but the video quality beats 99% of other DSLRs in the market. If you've never filmed with a DSLR, buying the DMC-GH1, and experimenting for a few years until the next generation of video cameras get released is not a bad, and cost-affordable option.
Conclusion
In conclusion, the best digital camera for filmmaking is a personal decision that depends on your budget and individual needs. There are many great cameras available today with advanced features such as 4K video capture, slow-motion recording capabilities, and more. When shopping around for the perfect camera to make films – or any type of content creation project – it's important to consider all factors from price point to portability before making a final purchase decision. With this guide in hand you should now be able to choose the best digital camera for filmmaking with confidence!