We all like to get our moneys worth these day, and why not? I mean, the middle class is shrinking, people are losing jobs, and the value of the dollar has shrunk. So in this guide, we're gonna tell you the best bang for the buck digital cameras. If you're on a tight budget, but don't want to sacrifice on performance, image quality and features, these are the cameras you should be considering: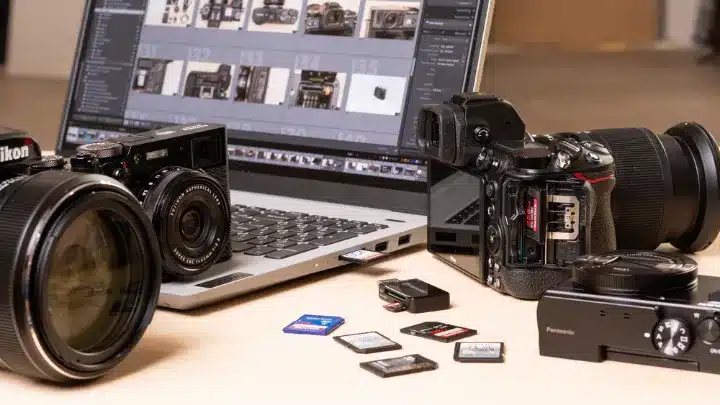 Panasonic Lumix DMC-ZS7
We're huge fans of Panasonic when it comes to their point and shoots. They definitely had the everyday casual user in mind when they designed these.
The ZS7 is basically pretty similar to both the ZS5 and ZS3. The weight, design and size are pretty much the same. You can get the ZS7 in a variety of colors from black, silver and red (we prefer silver).
The controls and menu system are fairly simple to learn, even though there are a lot of settings to tweak. A few days and you'll be changing things like a pro, even if you're a beginner.
In terms of performance, we think the ZS7 passes. The shutter lag was something that was glaring to us. It was .6 seconds when shooting in bright light, and 1 second in low light conditions – which is among the worst among similarly priced cameras.
The photo quality more than makes up for it though. Photos are low ISO of 80 to 100 are outstanding, sharp, and filled with plenty of details. You only get noise when you reach an ISO of 400 (we saw some yellow blotching). We don't recommend shooting in ISO 800 – it's not tolerable.
The video quality was also as good as the image quality. It's probably the same quality as your average pocket minicamcorder.
One cool feature that the ZS7 has is a built-in GPS. It's simple to use, just turn on the receiver and you can get information. We also appreciate the excellent megazoom Panasonic included with the DMC-ZS7.
What's great about it:
– Many features to play with
– Built in GPS system
What's not so great:
– Photo quality is bad in low light
Summary
Many features to play with in this camera, they really packed a lot for such an inexpensive camera. A great megazoom, and a GPS built-in are 2 outstanding features that differentiate the ZS7 from similarly priced point and shoots.
Combine this with a great HD video option, and a fantastic 25mm wide angle lens, and you got a camera you shouldn't regret buying.
Canon Powershot S90
The S90 combines compact size that can easily fit in your jean's pockets with excellent image quality. It is really classy looking, and despite its small size, it doesn't feel cheap either.
The image quality is superb here, especially at low light. We could hardly see any visible noise at ISO level than 800. The lens is pretty fast, so that means you rarely will need to use high ISO, which is good. Of course to compensate that, the zoom is not as good, but we don't think it's a huge deal.
One thing that may turn off some potential buyers is the fact that the Powershot S90 is missing a viewfinder. So you gotta rely on the screen. The LCD itself is 3 inches, and you can easily see it even in sunlight. The battery life also is subpar – we had to recharge it after only a couple of hundred of photos.
Other than those little complaints, we think the S90 packs a lot: sturdy compact size, outstanding image quality in low ISO (as good as you're gonna get in this price range), and outstanding performance.
What's great about it:
– Outstanding image quality in good light
– Very compact
– Fast performance, and burst speed.
What's not so great:
– Zoom is not so great
Summary
The S90 is not considered cheap by any means but for the money, you're going to get a lot. You can usually buy the S90 for less than $400, sometimes mid-$300. We think this camera should be worth $500, to be honest, so it's a great value.
Canon Powershot A490
The A490 is for those of you who are unemployed bums… no just kidding. But honestly, if you're on a very very tight budget, the A490 packs a good amount in its sub-$100 price.
A490 is pretty compact, and stylish. It looks and feels sturdy, and you'll be able to fit this into any pocket.
You're not gonna get an extremely fast camera in the A490, let's get that out of the way. The shot to shot times were very poor, and one of the worst amongst all digital cameras.
With the A490, you get the bare basic features. Not a ton of settings you can change here. We just recommend using the auto mode, which is actually pretty intelligent in choosing the right settings. You're buying this camera for a reason, and it's not to improve your photography skills.
The photo quality was excellent, considering the price. We actually think the quality is better than more expensive cameras in the market. We thought all of our photos turned out to be well balanced, with very little noise. Even at a level of ISO 800, we thought our photos were respectable. The colors were accurate, and bright – no complaints at all about image quality.
A few other things: you need to power this camera using AA batteries, which is a nuisance, and you'll need to get new batteries after 140-150 shots.
What's great about it:
– Great image quality for the price
– Auto mode is super-reliable.
What's not so great:
– Battery life is short
– Performance is slow
– Just the basic features
Summary
Overall, you can't complain about the Powershot A490. The performance could be improved, and there aren't many features to play around with, but we were more than happy with the image quality. If you just want to take good photos and don't want to spend a lot, run… don't walk and buy the Powershot A490. It's really great bang for thy buck.
Conclusion
Finding the best digital camera for your money can be a daunting task. With so many options to choose from, it's important that you take into account factors like image quality, features and price when making your decision. We hope this article has given you some insight on what to look for in a digital camera and how to make sure you get the most out of your purchase. Don't forget to consider user reviews before finalizing your choice – after all, other users are usually the best source of information about which cameras work well and which ones don't! Good luck with choosing the perfect digital camera for yourself or as a gift – we know it will turn out great