If you're looking for the best professional cameras, you better choose a camera with many customizable features, outstanding performance, and extreme durability. Not to mention being compatible with multiple lenses, and accessories. If you're thinking of becoming a professional photographer one day, consider giving one of these cameras a look. We highly recommend any one of them.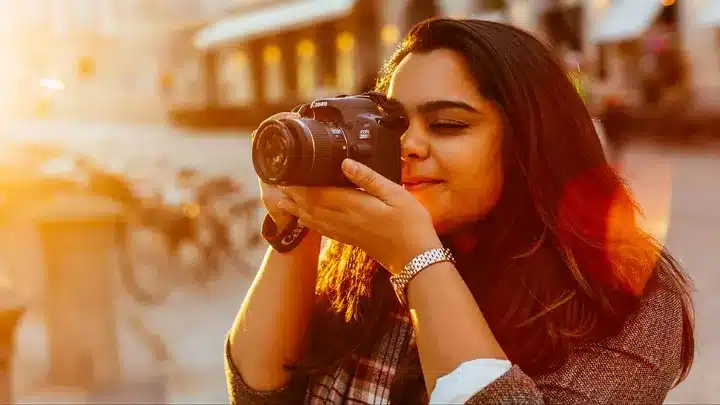 Best DSLR For Professionals Reviews 2023
Canon EOS 5D Mark II (Body Only)
Canon EOS 5D Mark II Full Frame DSLR Camera (Body Only) (Old Model) (Renewed)
21.1-megapixel full-frame CMOS sensor, 14-bit A/D conversion, wide range ISO setting 100-6400
Body only, lenses sold separately,1-Year Canon U.S.A. Limited Warranty
DIGIC 4 Image Processor; high-performance 3.9 fps continuous shooting; Live View Function for stills
Full HD video capture at 1920x1080 resolution for up to 4GB per clip ; HDMI output
Updated EOS Integrated Cleaning System specifically designed to work with a full-frame sensor
When the 5D Mark II was released, we were eager to get our hands around it, and boy we were not disappointed once we finally tried it. We ended up getting the kit version with the 24-105mm lens, which surprisingly is not that shabby.
It's a pretty beefy and heavy camera, weighing over 2 lbs. But it's durable, and has a comfortable grip.
The 5D Mark II also has movie-capture, which is a nice bonus. It lacks a few built-in features such as flash. Although we don't really need it most of the time (we're experts after all =), it is nice to have certainly.
In terms of performance, the 5d Mark II is pretty fast, clocking in at .3 seconds from power on to shoot, and .4 seconds shot to shot. For burst shooting, it is pretty slow compared to other expensive models at 3.8 frames per second.
We took many many photos with the 5D Mark II, and every one of them was splendid. It delivers, it really does. Very accurate photos with consistent exposures. We saw no noise until we reached an ISO level of 1600, but even it was only a tiny bit. You can go as high as ISO 12,800 and the photos can still remain relatively solid (of course, depending on the situation).
What's great about it:
– Outstanding performance and image quality
– Solid video capture
What's not so great:
– Doesn't have built-in flash
– Doesn't have built-in wireless controller
Summary
The EOS 5D Mark II delivers in both image quality and performance, and will surely make your shooting experience a fantastic one. It is A+ in almost all categories, and just lacks certain built-in features. After just a few days of shooting with it, we knew it was a winner.
Nikon D700 (body only)
Nikon D700 12.1MP Digital SLR Camera with 24-120mm f/3.5-5.6G ED IF VR Nikkor Zoom Lens
12.1-megapixel FX-format (23.9 x 36mm) CMOS sensor; kit includes 24-120mm f/3.5-5.6G ED IF VR Nikkor zoom lens
3.0-inch, 920,000-dot VGA color monitor; 170-degree wide-angle viewing and tempered-glass protection
Fast, accurate 51-point AF system; 3D Focus Tracking and two Live View shooting modes
Base ISO range from 200-6400 can be expanded to range from ISO 100 (Lo-1) to 25,600 (Hi-2); 0.12-second start-up speed
Capture images to CF I/II cards; compliant high-speed UDMA CF cards that will enable recording speeds up to 35 megabytes/second
The Nikon D700 comes in a real close in this class of professional photographers. There's a lot to like about this camera.
We recommend buying just the body only, and going with a better lens. It's not that the lens with the kit is bad, but we think you can do better especially after shelling out so much money for the body.
If you like lightweight cameras, the D700 is definitely quite light. Compared to 3 lb models like the D3, the D700 just weighs 2.4 lbs.
The controls for the D700 are quite user friendly, we especially love the switches for selecting metering mode. It's quite convenient. There's many things you can customize here, you'll find yourself spending days and days just figuring out everything that can be customized.
The resolution for the D700 is not as high as other cameras, but we can live with it. We don't shoot many high resolution images, but if you do, then we suggest looking elsewhere.
The performance for the D700 is pretty solid. From power on to first shot, it takes just .2 seconds, maybe less. Continuous shots take .5 seconds (even with the flash turned on). These are as good as other cameras in this class. The burst rate though is not as good, clocking in at 4.9 frames per second, but it's good enough for most situations.
The photo quality is superb, of course. If you use a really good lens, the images will turn out to be sharp, with great exposures. We can't find a camera with more accurate colors, to be honest. Images look great in low ISO, and are still fine even at high ISOs up to 12,800.
What's great about it:
– Outstanding image quality even at high ISOs
– Great performance, even in low light settings
– Great, solid build
– Intuitive layout
What's not so great:
– Can be a bit too heavy for some people
– Low resolution compared to competitors
Summary
The Nikon D700 is another great high end camera for the professional. It has everything you want in a camera of this caliber.
As long as you don't need video capture, or plan to shoot sports, we think you should be ecstastic with the quality of the Nikon D700. The low resolution is fine for us, but if you commonly shoot high resolution images, the D700 may not be for you.
Nikon D300s (Body Only)
The Nikon D300s is another great camera that packs tremendous performance, photo quality, and a nice build.
We like how comfortable the grip is for this camera. And it feels so durable and protected from dust and weather.
In terms of speed, wow… you can't get better performance than the D300s. It is perhaps the fastest camera we've tested, both in continuous shooting mode, and single shot mode. It takes just .3 seconds form power on to shoot, and .4 seconds for shot to shot (.5 seconds when shooting raw). The continuous shooting rate is a solid 6.8 frames per second.
The image quality is excellent, which is what you would expect. The colors are always accurate – they are bright and saturated, which we prefer. In general, Nikon cameras usually produce bright color compared to Canon or other brands.
There are a few things that annoy us about the D300s, and that has to do with the menu settings. Some things took a bit more time to change than they should have. You might need some time to get used to it.
What's great about it:
– Excellent performance and image quality
– Solid build
– Has video capture
What's not so great:
– The design could be improved
Summary
Another great camera that beats other cameras in its high burst speed, and good low light focus. If performance and speed is important to you, the Nikon D300s would probably the best camera for your needs.
Canon EOS 7D (Body Only)
Canon EOS 7D Mark II Digital SLR Camera (Body Only)
20.2 MP CMOS sensor and ISO 100-16000
High speed continuous shooting up to 10.0 fps
65-point all cross-type AF system
Stunning Full HD video with Custom Movie Servo AF (speed and sensitivity)
Dual Pixel CMOS AF enables you to shoot video like a camcorder
We thought we'd add a more inexpensive camera to this category with the other 3. The EOS 7D is not as expensive as the others listed, but still packs a good punch.
The performance for the 7D is excellent, and one of the best amongst all cameras in the market. It's faster than the more costly Canon EOS 5d Mark II, and even matches that of even more expensive cameras. Power on to shoot is a touch under .2 seconds, which is amazing. Shot to Shot time is .3 seconds, and burst is 7.3 frames per second.
The photo quality is also as good. We liked how the EOS 7D handles noise – they really did a good job in this aspect. At ISOs 800 and 1600, our photos looked good. It's only until we reach ISO 3200 that we see some noise. We recommend shooting at 3200 or below.
The video quality is solid, though of course not anywhere near that of a HD camcorder. It passes though. One of the things we liked a lot was the 7D's big and bright viewfinder. As for complaints, some of the buttons in the EOS 7D are hard to feel – the illumination buttons are quite small, and some of the buttons just feel the same.
What's great about it:
– Fast, fast and fast!
– Outstanding image quality
– Features a big bright viewfinder
What's not so great:
– Buttons can be hard to feel at times
– 1 card slot
Summary
The 7D is a good bang for your buck professional DSLR, that packs a lot of features. If you need better image quality in higher ISOs (3200 and beyond) we recommend spending more for a better camera, but if not, the 7D is reasonably priced, has tremendous performance, and has a very accurate autofocus.
Conclusion
Choosing the best professional DSLRs can be a daunting task. With so many options on the market, it's important to consider factors such as image quality, speed, and price before making a decision. Fortunately, this guide has provided you with an overview of some of the top-rated models available today. We hope that by considering our recommendations and tips for selecting the right camera for your needs, you'll find yourself armed with all the knowledge necessary to make an informed choice when purchasing one of these powerful pieces of equipment.