We conducted one week of research to find the best garment steamers currently available on the market. After a detailed analysis of a dozen of garment steamers, we shortlisted our selection to the top 5 garment steamers.
All garment steamers included in the list comes with exclusive features including high maximum temperature, appropriate size for various use, quick heat up, and overall effective performance. If you are in a hurry, we will recommend you J-2000 Jiffy Garment Steamer which is an all-in-one garment steamer.
Garment Steamers Reviews
Welcome to our best garment steamer buying guide. Garment steamers are commonly known as clothes steamers which are useful multi-tasking appliances. Nowadays, they are being used as an alternative to an iron and ironing board as a quicker and more reliable way to remove wrinkles and creases from clothes.
They are easy to use with a convenient setup, lightweight to make the functioning much stress-free, and unwrinkled your clothes right away on the hangers. In addition to removing wrinkles from clothes, they have other purposes as well including eliminating odors, freshening up items such as hangings, and removing dust from any item.
We tested several garment steamers from different companies and compared the pros and cons of each appliance. After we thoroughly analyzed the various garment steamers, we asked for expert recommendations and customer reviews. Eventually, we combined a list of the top 5 garment steamers based on their quality, portability, and effectiveness.
Over the course of this buying guide, you will find the best garment steamer reviews where you can select one as per your desire. We have also included important considerations to help you make the best possible decision.
Top 5 Garment Steamers
Best Overall Garment Steamer – J-2000 Jiffy Garment Steamer
Sale
Jiffy Steamer J-2000 Jiffy Garment Steamer with Plastic Steam Head, 120 Volt, Beige
1300 watt solid brass heating element (120 volt for North America use only…not for export)
High-impact plastic outer housing for durability
Quick two minute heat-up time.6 inches wide plastic steam head.Cord Plug: NEMA 5-15
1.5 Hour steam time per filling. Water Capacity: 3/4 galloon / 2.84 litres. Fusible link with automatic shut-off for safety
Made in the USA
The J-2000 Jiffy Garment Steamer is an excellent choice for everyday use and commercial use to some extent. It features a variety of applications including wrinkle and crease removal, wallpaper removal, and steaming bedding and linens. It is equipped with highly durable plastic housing and spinning wheels for easy mobility.
The nicely designed appliance heats up within 2 minutes and provides 1.5 hours of steaming per filling which is truly impressive. Besides, the J-2000 Jiffy Garment Steamer comes with ¾ water reservoir which settles down perfectly on the base of the garment steamer and provides sufficient water for several steaming sessions.
As far as the steaming power is concerned, you will be amazed to know that this appliance offers 1300 watts to give you unmatchable performance on an everyday basis. It's an easy-to-use unit that lets you turn it on and off with a touch button.
On top of that, you will also find a no-drip check valve system, a 5 1/2-foot supple hose, and a plastic steam dome and handle. Overall, we would say that this is among the most user-friendly garment steamers on the market. The reasonable price and low maintenance make it a favorite choice for many consumers.
Rowenta IS6300 Master Valet Full Size Garment Steamer
Rowenta IS6300 garment steamer is an exceptionally convenient and easy-to-use appliance and therefore we have placed it in the best overall garment steamer category. Featuring roll and press vertical support, it serves as an ironing board for the clothes you hang while steaming.
This procedure makes it quite easy to even get rid of the toughest creases. It provides you with one hour of steaming with the 81-ounce tank and 1550 watts of steaming power. The water in the tank heats up quickly so you can get the job done in minimum time. If you want to store away the steamer, you can simply pop down the telescopic pole and place it in any of your cabinets.
Furthermore, the tank fits perfectly under most kitchen valves so you can directly fill the tank instead of pouring water into a cup first. The Rowenta IS6300 garment steamer has a cool handle that remains comfortable and gives burn-free use. Finally, it includes a textile brush, lint mat, and steam boater. Overall, it's an all-in-one steaming unit that is designed to serve you for several upcoming years.
Best Handheld Garment Steamer – Elite Garment Steamer by PurSteam
Sale
The Elite Garment Steamer by PurSteam is made our top pick for its extra-large capacity of 61 ounces and takes only 45 seconds to heat up. The most convincing part of this unit is the steamer which comes with a 248°F heat rating and provides one hour of consistent steaming. The steam thoroughly penetrates through the garment's fabric thus removing all the wrinkles in a go.
Speaking of construction, the heavy-duty model has a cast aluminum build up which gives it superior durability. In addition to that, the model is designed to kill 99% of germs which is pretty impressive. The Elite Garment Steamer by PurSteam is a versatile unit that is capable of working with a number of fabrics.
On top of that, it is supported by a 5-year warranty which is comparatively more when compared to other products from different manufacturers. All these features make it a popular unit that is built to fulfill customer satisfaction. You can use it for everyday home use and for light commercial use as well.
Portable Garment Steamer by Deneve Steamer
We picked Portable Garment Steamer by Deneve Steamer in the category of best hand-held steamers as it's considered the most powerful home hand-held fabric care steamer currently available on the market. With 1000 watts of steaming power, it is capable of handling even the most persistent garments.
It takes a very short heating time which is about 2 minutes only and after that, your device is ready to remove ruined wrinkles promptly. Featuring a large 7-ounce tank, it makes for a highly portable choice.
The unit offers you 10 minutes of consistent steaming and then requires a quick refill. In addition to that, the automatic shut-off feature works successfully to prevent the device from getting overheated or extremely low on water.
The product has been tested several times and is acclaimed as a completely safe steamer for all types of fabrics whether delicate or hard. It offers a 100% guarantee for unsatisfied buyers. Likewise, the unique design prevents any sort of tipping and dripping.
The package includes a householder garment steam, a travel garment vessel with a pressure cap, an illumined on/off switch, a 7-ounce water container, and a detachable brush accessory. If you are looking for a handy device that works efficiently for everyday use, the Portable Garment Steamer by Deneve Steamer is a convenient and commendable option.
Best Travel Garment Steamer – Pure Steam Portable Fabric Steamer
Sale
Pure Enrichment® PureSteam™ Portable Handheld Garment Steamer - Ideal for Home or Travel, Fast Heating, Removes Wrinkles on Clothes and Fabric, Auto Shut-Off Safety Feature (Black)
IMPROVED NOZZLE: New nozzle design distributes steam powerfully and consistently to remove stubborn wrinkles from clothing, drapery, furniture upholstery, bedding and table linens – Safe to use on all types of fabric
FAST-HEATING WATER TANK: Heats quickly to emit wrinkle-busting steam in 2 minutes – High-capacity, easy-fill water tank lasts for 10 minutes of continuous steaming
LIGHTWEIGHT & COMPACT: Compact design travels and stores easily – Includes auto shut-off safety protection if the unit gets too hot or too low on water
AUTOMATIC SHUT-OFF: Safety feature shuts off steamer automatically if the product gets too hot or too low on water
WHAT YOU GET: Garment steamer, user manual, industry-leading 5 Year Warranty, caring customer support 7 days a week, and the peace of mind that comes from a trusted brand with millions of customers worldwide.
There is a reason that makes Pure Steam Portable Fabric Steamer the best-selling garment steamer-it's effective and inexpensive. The unit heats up quickly to release wrinkle-busting steam in just 2 minutes.
With the upgraded nozzle design, it is safe to use on almost any fabric including clothing, curtains, furniture, stuffing, sheet, and table linens. Coming with a 2-year warranty, it steams for 10 minutes consistently and requires one fill of the high-capacity water tank.
One of the exclusive features of Pure Steam Portable Fabric Steamer is the automatic shut-off to prevent fire hazards when the unit gets extremely hot or low on water. It makes for a great unit while traveling and can conveniently store it in your luggage bag. All these factors combine to make it a highly eye-catching home steamer and a great travel garment steamer.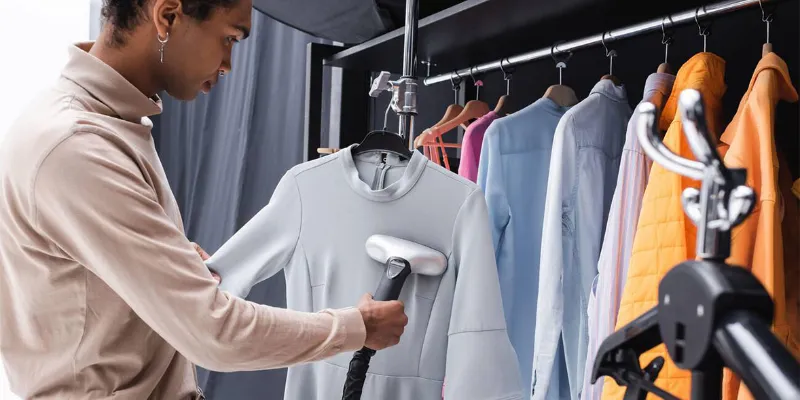 Garment Steamer Buying Guide
What is a Garment Steamer?
Garment Steamers are also known as clothes or fabric steamers that let you effortlessly unwrinkle your clothes through steam. The device produces steam that allows the fabric to convert into its original state and get rid of crinkles and crumples. The most crucial parts of the device are the steamer and tank. The water is kept and heated in the steamer whereas it comes out through the nozzle.
How to Choose
Budget
Before purchasing the garment steamer of your choice, set a budget. Keep in mind that you will be using it multiple times a day as you are replacing an iron and ironing board. If you have a budget of more than $300 then you should probably go for a high-end model. On the other hand, if your budget is limited or you are uncertain about the whole steam thing, then go for a low-budget option.
Use
Think about the usability when you purchase a garment steamer. For example, if you want to steam your long curtains then probably you should not go for a handheld with a tiny tank garment steamer. Whereas, a full-sized one is also not suitable if you are just going to use it to unwrinkle your t-shirt.
Your purchase primarily depends on your requirement. Further, you should have an idea of how much you are going to use the unit. For instance, if you are going to steam multiple shirts, jackets, pants, fancy clothes and so on then you should have a full-size steamer. They commonly come with built-in hangers where you can easily hang your clothes and steam them right there.
Performance
One of the foremost differentiating features of garment steamer is the warm-up duration. Usually, the bigger steamers come with huge tanks and they take some time to heat up and generate steam. If you can switch on the steamer, wait for a while, and then start steaming- it is perfect.
However, if you need it to be ready within 2-4 minutes then get a smaller tank. However, they have smaller water capacities and require refilling more often. Another vital feature you will definitely want to consider is the reach of the hose, the appropriate size of the hose, and the long power cord which makes for a lot of flexibility.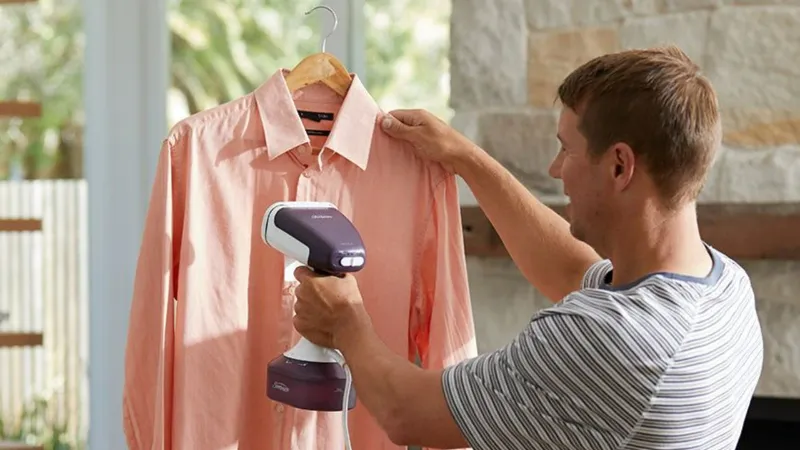 Storage
Storage is another significant consideration as you are going to replace an iron and ironing board, you must have space for the new equipment. If you are looking to free up some space and shift to a small apartment then a steamer with a small footmark is a considerable choice.
Wattage and Maximum Temperature
It's not always necessary that the high wattage will give a high maximum temperature. Make sure to check the maximum temperature of the unit without making assumptions based on the high wattage specification. The unit with high wattage and average maximum temperature will be inefficient and consumes a lot of energy.
On the other hand, a high-quality model will have a high wattage and an equivalent amount of power. The higher temperature leads to the removal of the toughest wrinkles and creases. Also, these models are capable of killing germs as well.
Type
Technically, you will find three types of garment steamers including floor models which are also known as full-size models, compact portable models, and steamer accessory tools that come with heavy-duty steam cleaners. If you are a frequent traveler or have less space at your home then a commendable option is a handheld steamer for its extremely lightweight and small footprint.
However, you need to be careful while purchasing a handheld garment steamer as many of them come as cheap and underpowered. If you are searching for a garment steamer for regular use then perhaps a floor model is recommended which offers a few hangings for clothes along with other items to keep the functioning smooth and easy.
Finally, if you want a garment steamer for steam cleaning floors and a lot more then you should go for a heavy-duty option that offers steam-cleaning accessories as well.
Conclusion
Considering the overcrowded market of clothes steamers, finding the right garment steamer can be a truly challenging job. Therefore, we have created this list and exclusive buying guide for you to help you find the best product as per your requirement.
This guide is comprehensively researched while keeping in mind the customers' requirements and ensuring to select the best products among them that money can buy. We hope our top picks will help you in making a perfect choice.