Live view is a feature not many digital SLRs have, but it's an useful one. It allows you to use the LCD or electronic viewfinder as a viewfinder so you can preview exposure before taking your shots. It is becoming increasingly common among DSLRs, and our experts believe these are the best DSLRs with live view right now: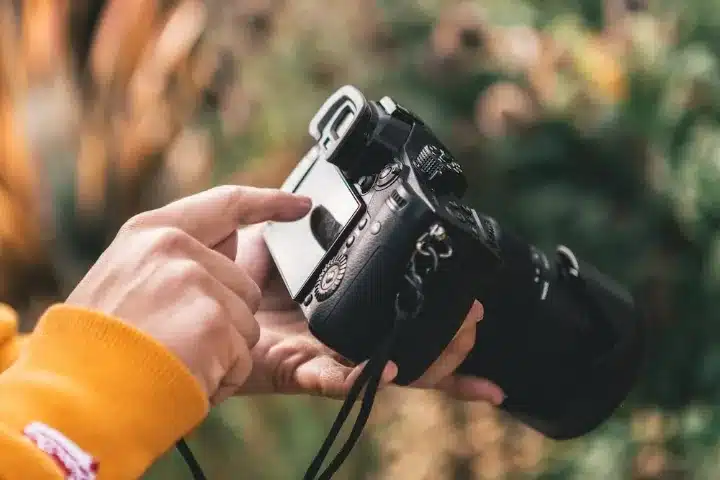 Best Live View DSLR Reviews 2023
Sony Alpha DSLR-A550
When it comes to live-view most people would agree that Sony is the best brand that really offers for the best live view experience, and the Sony A550 is the best camera for that.
Let's get into the live view: it's hands on the best implementation of live view in the market right now.
The A550 lets you choose among 2 live view modes. There's the quick auto focus live view, and the manual focus mode. You can just activate one or the other using the external live view/OVF switch.
With the auto focus live view, you may see a bit more noise in low light situations. You can fix this by going to manual focus. This raise the mirror, and views through the primary sensor.
You can adjust the screen up to 90 degrees in each direction, which is crucial in my opinion. We've seen other cameras with live view where you can't adjust the screen at all – this offers a much poorer experience. The LCD is very sharp, has high resolution, and has 921,000 dots. It's everything you need in live view.
The image quality is terrific. We love how sharp our photos turn out. The A550 does a great job at noise reduction. We shot a few photos using an ISO of 3200, and noticed almost no noise. It's a great camera for low light situations.
The A550 is fast, no matter how you slice it. Power on to first shot is .61 seconds. It shoots 7 frames per second in burst mode. Other similarly priced cameras like the D5000 can't match this fast performance.
One glaring thing missing the DSLR-A550 is video mode, not HD or standard. This is something we are willing to look over since we don't use video mode often, but it'd be nice to have it, since almost all cameras have it.
Overall, I'm impressed by the A550, and its live view implementation. It's user friendly, performs well and produces great, sharp beautiful photos in good light AND low light. It performs equally well in live view and when using an optical viewfinder. The clean and intuitive interface is great for newbies too. If live view is an important criteria, the DSLR A550 is the best camera.
Panasonic Lumix DMC-G1
The G1 is a huge favorite amongst us, and one of the most impressive features is the live view shooting experience it offers. The Micro Four Thirds system was really designed to be live view only, and Panasonic took advantage of this with the G1.
You can either use the 3 inch rotateable LCD screen, or an electronic viewfinder. Both of them offer huge resolutions. The LCD screen offers 460,000 pixels, while the electronic viewfinder offers 480,000 pixels. Obvious the EVF is the better solution, but it's not as sharp as using a regular optical viewfinder.
Live view is quite a joy to use. There are many focusing modes available here, from face detection 1 point adjustable, and subject tracking. Manual focus is quite easy. If you're feeling dumb, or lazy just use the intelligent auto mode, and the camera will do everything for you.
With the LCD screen, and EVG the view is surprisingly detailed, and we couldn't detect noticeable pixelation. The view is large as well, and even bigger than the views of more expensive cameras in the market like the Nikon D90. Using the DMC-G1's EVF is definitely a better experience than using any tiny optical viewfinder.
One of the disadvantages usually to having live view is slow performance. With the G1, this is definitely not the case. The performance of the G1 is as quick as other DSLRs in this price range. It snaps into focus almost instantaneously.
There are a few faults with the G1. Since you're looking at an electronic image, your photos may not turn out as accurate you wish. This is primarily the case when you're shooting in low light conditions. Also, the battery life suffers here. The DMC-G1 also doesn't have a movie mode, which may be a concern for some people.
We think the DMC-G1 is one of a few cameras that really gets live view correctly, and it's a good thing because it operates 100% all the time on live view.
Canon Rebel XSi
Canon Rebel XSi DSLR Camera with EF-S 18-55mm f/3.5-5.6 IS Lens (OLD MODEL)
12.2-megapixel CMOS sensor captures enough detail for poster-size, photo-quality prints
Large 3.0-inch LCD display; includes Canon's EF-S 18-55mm, f3.5-5.6 IS zoom lens
DIGIC III image processor provides fast, accurate image processing; improved Autofocus and framing rate
EOS Integrated Cleaning system, plus Dust Delete Data Detection in included software
Stores images on SD/SDHC memory cards (not included)
The XSi introduced a much improved live view system over the older models. You can get the Canon Rebel XSi for around $800 in Amazon for the body only, or with the IS lens for $100 more.
We think the live view is pretty solid in the XSi. By default, live view is disabled, and you'll need to dig into the menu to enable it. There are 2 modes for live view: quick and live. Quick mode basically drops the mirror down and uses auto-focus.
Live mode works like a digicam. It reads the image from the sensor while adjusting the lens. A small square then appears in the middle of your image area, and you can use cross keys to move that square around. As with quick mode, you need to press the AE-Lock button, hear a beep, then press the shutter button to fire the shot. Both the quick and live mode offer zooming in 5 or 10X.
One benefit from using the live view mode is a feature called exposure simulation. The image you see on the screen will tell you how your final photo will turn out. If the image looks dark, it means you're underexposing the image.
There are some minor quirks with the XSi live view system. With the quick mode, they include an image of the 9 autofocus points overlaid on your image. However, the AF points don't light up as red until you pressed the AE-L button. This makes those AF points quite useless, to be honest.
Overall though, we think shooting in live mode is pretty simple – you just need to get used to it. We think pressing the AE-Lock button can get a little tiring when shooting from weird angles. When you use live autofocus mode, the performance is a bit slow.
The image quality of the Canon Rebel XSi is superb. We were able to shoot excellent images even in ISO 1600. This is where most DSLRs of this price range suffers, but not the XSi. We compare photos produced in this ISO for several cameras, and it's apparent the XSi produces more accurate colors, and sharper details. We think the image quality of the XSi rivals even DSLRs that cost twice as much.
All in all, the live view works well in the XSi, but we don't recommend buying it just for the live view. In fact, we recommend using it only when needed, such as for fine shooting with a tripod, or when shooting from weird angles.
As with most cameras with live view, the battery life goes down, make sure you carry an extra battery.
Overall, we recommend buying any of the first 2 cameras if live view will be your default mode. If you're looking to use live view sparingly, the XSi is a better bet because of the great image quality, super fast performance, and better bang for your buck.
Conclusion
When it comes to finding the best live view DSLR, there are many factors to consider. From features such as megapixels and autofocus system to design elements like ergonomics and build quality, you need a camera that can meet your needs while also providing an enjoyable user experience. We've provided some of our top picks for cameras with great live view capabilities so that you can make an informed decision when choosing one for yourself. With any luck, this guide has helped you find the right DSLR with the perfect combination of functionality and performance – happy shopping!