If you're planning to buy a DSLR for fashion photography (such as opening your own portrait studio) there are many things you should consider. This guide is for DSLRs. We assume you either can't afford a film camera like the Hasselblad, or you're just "starting" out. Our experts sat with some professional photographers, and asked them what DSLRs to recommend for the serious fashion photographer. Here were their recommendations: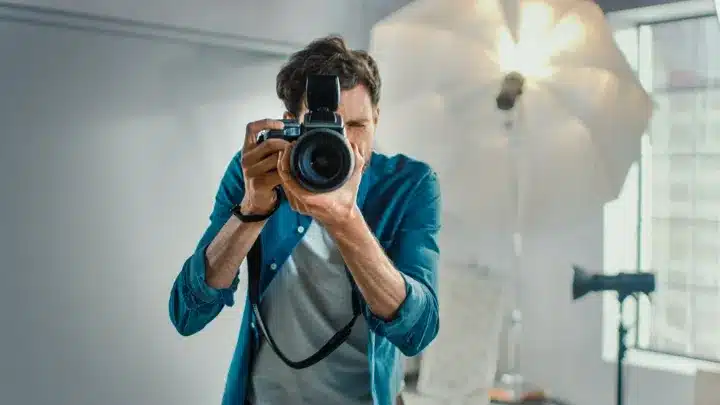 Best Digital Camera For Fashion Photography Reviews 2023
Nikon D3X
Nikon D3X 24.5MP FX CMOS Digital SLR with 3.0-Inch LCD (Body Only) (Discontinued by Manufacturer)
Extreme resolution 24.5-megapixel FX-format (35.9 x 24.0mm) CMOS sensor
Nikon EXPEED image processing technologies; 138 MB processed NEF (RAW) 12 or 14-bit image files
3-inch super-density 920,000-dot VGA LCD monitor; 100 percent viewfinder coverage
Two Live View shooting modes; continuous shooting at up to 5 fps at full FX-format resolution
Dual CF card slots with overflow, backup and copy options
There's casual photography, and then there's serious photography. At $8000 (more or less), the Nikon D3X is the best 35mm format DSLR in the market, and reserved for the big boys.
The D3x is packed with many rich features. And because it is, there's a ton of dials and buttons to get used to. When we gave it a test drive for 1 day, there were numerous occasions when we forgot where a certain setting was, or what this button did. Heck, we even asked someone who used the Nikon D3x for the entire life, and he tells me sometimes he has to real the manual.
Complications aside, the image quality of the D3x is superb, especially its noise profile. Compared to cameras in this class, such as A900 and 1Ds Mark III, when we shot at ISO sensitivities in the 3000's, the noise was kept at a lower level.
When shooting portraits, the D3x produces exceptionally sharp detail, and subtle tones. You might not notice much of a difference in detail when comparing this with any high-end DSLR, but when you blow it up, the D3x still retains clearly defined details, while other DSLRs don't.
If you are planning to blow up your images to billboard size, and are serious about fashion photography, the best camera to get is the Nikon D3x. At $8000, it's not cheap by any means but if you're earning a living shooting fashion, and models, it's a bargain considering the superior image performance .
Nikon D700
Nikon D700 12.1MP Digital SLR Camera with 24-120mm f/3.5-5.6G ED IF VR Nikkor Zoom Lens
12.1-megapixel FX-format (23.9 x 36mm) CMOS sensor; kit includes 24-120mm f/3.5-5.6G ED IF VR Nikkor zoom lens
3.0-inch, 920,000-dot VGA color monitor; 170-degree wide-angle viewing and tempered-glass protection
Fast, accurate 51-point AF system; 3D Focus Tracking and two Live View shooting modes
Base ISO range from 200-6400 can be expanded to range from ISO 100 (Lo-1) to 25,600 (Hi-2); 0.12-second start-up speed
Capture images to CF I/II cards; compliant high-speed UDMA CF cards that will enable recording speeds up to 35 megabytes/second
If the Nikon D3x is out of your budget (as it is with most people), or you're just starting out with fashion photography, the Nikon D700 is a good midrange DSLR for shooting portraits. It's an upgrade of the D3, and has a smaller battery, and offers the same image quality as the D3 in a lower price.
You can choose to buy the D700 with just the body, or with a kit with the AF-S VR 24-120mm f3.5-5.6G IF-ED lens. We highly recommend pairing the body with a more expensive, higher quality lens. If you're paying more than $2000 for a camera body, sticking with the kit lens seems like a waste to us.
The performance of the D700 will be fast enough for your purposes. Power on to first shot is < .2 seconds. Autofocus to shoot takes .3 seconds in good light, and .6 seconds in dim light, terrific, top-rate numbers. Shot to shot takes .5 seconds. The burst rate is 4.9 frames per second, which is again enough for fashion photographers.
The photo quality is excellent. If you pair the D700 with a very good lens, all your photos will be very sharp, display excellent exposures and a broad dynamic range. Color accuracy is also top notch with the D700.
We especially love the skin tones that the D700 produces. We recommend setting the neutral picture control setting to +1 saturation for the best effects.
The noise profile, like the D3x is superb as well. You won't see any noticeable degradation until you reach an ISO sensitivity of 6400. Even when you do reach this ISO level, photos are still usable. 25,600 is considered an emergency ISO for us, and you probably won't be using it that often.
Overall, the D700 is a fantastic camera for those that can't afford the D3x. We know many "weekend" photographers who shoot weddings, models, and fashion shoots with this camera. It offers a very affordable solution to the person who needs the top-rate image quality that the D700 delivers.
Canon 5D Mark II
Canon EOS 5D Mark II Full Frame DSLR Camera (Body Only) (Old Model)
21.1-megapixel full-frame CMOS sensor, 14-bit A/D conversion, wide range ISO setting 100-6400
Body only, lenses sold separately,1-Year Canon U.S.A. Limited Warranty
DIGIC 4 Image Processor; high-performance 3.9 fps continuous shooting; Live View Function for stills
Full HD video capture at 1920x1080 resolution for up to 4GB per clip ; HDMI output
Updated EOS Integrated Cleaning System specifically designed to work with a full-frame sensor
When it comes to image quality, the Canon 5D has to be mentioned in the equation. It's the lightest, and least expensive of these 3 cameras, but has the sharpest photos of all them all!
We've had 20 X 30" prints of shots, and remarkably they still retained sharp detail, displayed little noise, and had accurate vivid colors. Even if you compare the prints generated by the D700, and D3, the Mark II still comes up on top. And the difference isn't small either. The Mark II generates very noticeably sharper images at all ISO levels. You pretty much have to apply a sharpening filter in Photoshop for the D3 photos to get the same effect. And it doesn't matter what lens you use either.
Some people even say the 5D oversharpens images a tad, but when you're generating huge prints, that shouldn't be a huge concern – that's actually an asset.
Of course, the Mark II does have several negatives. For one, it's not an user friendly DSLR. We found it took more time than usual to change a setting, or even accomplishing something simple like magnifying.
The viewfinder for the Canon 5D Mark II is also not top-rate. We think Nikon viewfinders are easier to read, and brighter. Some people also complain about the plastic build. The body is mostly made of plastic, with the exception of the metal top plate. We're not sure how well it would hold up after months of use. At several G's, we wish Canon would've invested in a more solid build.
The LCD screen is also below average. Just put it next to any Nikon DSLR's LCD screen, and you'll notice a huge difference. The 5D Mark II's LCD looks dim with non-vivid colors.
Nonetheless those weaknesses are easy to overlook once you see how sharp and excellent your images look in huge prints. For the fashion photographer, that's your number 1 criteria, and the 5D Mark II is an inexpensive alternative to the Nikon D3x.
Conclusion
Choosing the best digital camera for fashion photography can be a daunting task, with so many options available. Whether you're looking for a budget-friendly option or something that packs more of an advanced punch, there is likely to be one that fits your needs and price range. We hope this guide has helped you make sense of all the features out there and find the right camera for fashion photography. Remember to consider what type of shooting environment you will be in, as well as how much control over settings you need when deciding on which model is best suited for your particular style and workflow. With these tips in mind, we believe any photographer should have no problem finding their perfect fit!